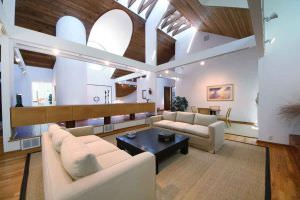 When you see or hear words like "organic" and "environmental harmony", it calls to mind movements that have gained momentum and popularity in recent years.  The concept of "going green" occurs to many to be a construction of the 1990's and the 2000's, with "organic" foods and materials being all the rage at local markets, boutiques and retailers around the country.  But in the worlds of architecture and design, these ideas are nothing new.  The Mid-Century Modern style has been popular from New Jersey to California since the term was coined in the 1950's and can describe a great many homes that were built from the 1930's through the 1960's.  The architects of the mid 20th century who were building these modern homes believed in sustainability and conservation, concepts which are right in line with current trends and thinking.  As more and more consumers are getting on board with the idea of organic and sustainable, it looks like the Mid-Century Modern style of home with its clean lines that balance form, function and environment so beautifully, will always be in high demand.
Frank Lloyd Wright Pioneer of Modern Architecture
The name Frank Lloyd Wright is often synonymous with Mid-Century Modern.  Wright's designs are by far, some of the most unique and impressive of any architect in this genre.  His "organic architecture" philosophy involved design in harmony with nature and humanity, bringing the outside indoors for the humans while not disturbing the tranquility of the outdoors.  This design concept often resulted in structures that seem as if they grew out of the earth in conjunction with their surroundings, such as the famous Historical Landmark, Fallingwater, which is built directly over a natural waterfall without damaging or disrupting the fall in any way.  The structure looks as if it is naturally part of the hillside itself, not something that was put there by human hands.
Mid-Century in Mendham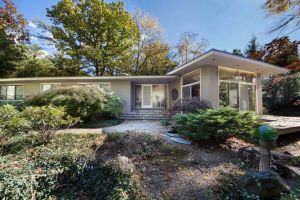 New Jersey communities such as Mendham, Millburn and others are known for having exquisite Mid-Century architecture and homes perfect for families or young professionals.  One delightful essence of Mid-Century design is space and light with large windows that let the resident feel as if they are living within the natural beauty of New Jersey, rather than blocking it out.  If you're looking for an open floor plan, a Mid-Century design is definitely a smart choice.
Frank Lloyd Wright and other architects taking on this style often employ "post and beam" timber framing as opposed to vertical support posts.  The post and beam construction allows for the load bearing to be distributed on the exterior walls instead of throughout the interior.  This in turn leads to wide and open rooms perfect for family gatherings, walls of windows that welcome natural light and an overall feeling of space even in a small square footage.
Sustainability
Frank Lloyd Wright and the other "organic architecture" builders were almost prophetic in their designing, knowing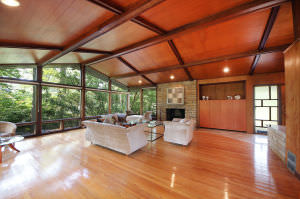 that one day the desire for energy conservation and environmental sustainability would become top priorities for many consumers.  Many Mid-Century designs incorporate native materials, flat roofs and large cantilevered overhangs for solar heating and natural cooling, natural lighting with clerestory windows, and radiant-floor heating.  All these elements save energy and provide a harmonious connection to nature, creating residences that really feel like a refuge from the stresses of life.  In essence, a Mid-Century Modern house feels like home.
Take a look at this fabulous example of a Mid Century Modern home offered by Sue Adler