Our 2020 Mid-Town Direct Market Reports are out! Read our intro letter below and explore the full versions at the bottom of this post. We are Yours to Count On, if we can help with any of your real estate needs please call us at 973-936-9129 or send us an email to [email protected]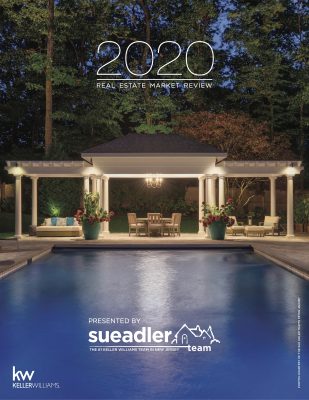 Dear Neighbor,
We hope this letter finds you in good health and spirits. 2020 certainly was a year like no other. Specifically, in real estate, 2020 was an unprecedented, pivotal year. January and February started out strong, however, the onset of the pandemic in March derailed the real estate market and life as we knew it. In May, once the stay-at-home order was lifted, we started to see the results of pent-up demand. Listings that had been sitting for months suddenly received multiple offers and the urban to suburban rush began. This trend, coupled with very low inventory, and historically low-interest rates, caused home prices to jump. Consequently, the 2020 real estate market became one of the most active I've seen in my 30+ years in the business. There were more monthly home sales in June through November than there were during any other spring market in the past 15 years.
With 2020 now concluded, we have conducted an extensive analysis of the state of the market over the past year, which has also equipped us with further insight into 2021 trends. Through the following comprehensive overview of the market, including a breakdown of your town by price range, we intend to give you, the local homeowner, a true sense of the market; and with that, a greater understanding of the value of your own home. I hope that you find this information valuable and that you will share it with your friends and family. We are thrilled to report that all of the local towns we monitor benefited from the influx of recent buyer demand. In 2020, inventory levels dropped by 2.1%, while total sales rose by 17.1%. In line with these numbers, each of our local towns saw a rise in the average sale price, a rise in a number of homes sold, and a fall in days on market. The data, influenced by a number of factors, is indicative of a strong Seller's Market.
In addition to sub 3% interest rates, drastic lifestyle changes were also a driving force behind this past year's market. In response to working-from-home and embracing the virtual learning model, many had to reassess their situations and housing needs. We saw more upsizers in 2020 than ever before. NYC, Hoboken, and Jersey City apartment dwellers realized their need for additional room and a nice yard. Couples that had long prioritized an easy commute no longer saw the importance. Local move-up buyers traded in their current home for one with the perfect home office. Families opted for an inviting property with a private pool once their summer plans were called off. Others were simply eager to experience the suburban lifestyle.
Interestingly, unlike 2018 and 2019, when our markets were largely fueled by the entry- and mid-level price ranges, this past year saw some of the biggest gains in the upper price bracket. With wealth from NYC and Hudson County coming in waves as we had never seen before, the demand surged for luxury homes across all of our towns and, once again, sitting listings began generating multiple offers. This has created a scarcity of inventory as builders have sold most of their new construction homes, and the "tear downs" have become too expensive. As such, new construction is harder to find, and newer construction resales are in high demand. The opportunistic homeowners jumped into the luxury market, and for the first time since 2005, experienced a Seller's Market in the high end.
My team and I instantly recognized how crucial the online real estate experience would become during the pandemic. We built a new custom website (sueadler.com) and created a Digital Showcase for each listing to include: the highest quality professional photography, a Matterport 3D walkthrough, cinematic videography, a thoroughly written description, including floor-by-floor detail, floor plans, a virtual brochure, and a personal letter from the sellers to prospective buyers, sharing what they have loved about their house and community. These personal letters allow buyers to connect with our listings on an emotional level. In addition, we now host "virtual" open houses over Zoom, where prospective buyers can log on and ask questions during the tour. The virtual open house is then posted on sueadler.com for buyers to register for and access at their convenience.
Our innovative and information-rich Digital Showcases are a win-win because if a buyer likes the home from what they saw online, it is then just a matter of seeing it in-person to make their decision. These have been an incredible game-changer for our clients and buyers alike in this extraordinary market.
2021 has picked up where 2020 left off. With extremely high buyer demand and lower-than-ever supply, a strong Seller's Market still exists. We expect it to continue through at least the first half of the year as demand outpaces inventory. Simply put, if you are thinking of selling, now is the time. Your home is likely worth more than you think!
On a personal note, I am excited to announce that for the 8th year in a row, The Sue Adler Team was #1 in Dollar Volume in GSMLS (covering Essex, Union, Morris Counties), with $225 Million in sales production, and we were $30 million higher than the #2 agent according to GSMLS rankings. Furthermore, we were #8 out of 180,000 Keller Williams agents worldwide, and are so thankful to now have 300+ five-star reviews from families that needed us more than ever. We were honored to help 251 families buy or sell homes. By taking the time upfront to stage, conduct pre-inspections, and put together our Digital Showcases, paired with our wide reach, we sold 62 of our listings OVER list price in 2020! Our March and April digital initiatives set our sellers up for success in May-December, into 2021, and beyond. Our clients will tell you that we NET them more because we DO more!
On behalf of our entire team, we are proud to live, work, and serve in our communities, and we are grateful for the opportunity to make a difference in so many lives.
Yours to count on,
Sue Adler
Click the box in the bottom right-hand corner for the best reading experience!
Millburn and Short Hills

Summit

Chatham

Maplewood/South Orange

Livingston

New Providence

Madison