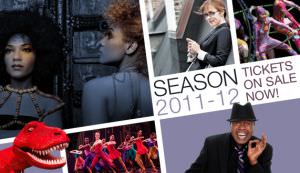 Not only are we a hop, skip and jump away from New York City's Time Square with probably the best theater choices in the world, but we have something that exceptional even closer to home.  Opening in 2006, SOPAC (South Orange Performing Arts Center), located in the center of South Orange, has been the premier performing arts center in our region.  There's something enthralling about having a cultural hub in the heart of our Midtown Direct communities.
The 415-seat, state-of-the-art, live performance hall is a theater goers dream.  Thanks to careful architectural planning and innovative engineering, the vertical design packs a lot of cool entertainment into a relatively compact space.  And there is no bad seat in the house!  As a matter of fact, each seat is so close to the stage that you can almost reach out and touch a performer or at the very least make good eye contact.
With performances from classic jazz to Tom Wopat performing "Caberet" to sultry Suzanne Vega to Lydia Johnson Dance and Classical concert series, each season offers something new and exciting.  The Saturday Kids & Family performances present many lovable children's classics and books adapted for the theater.  All tickets can be purchased at the box office or online and subscription packages offer amazing savings.
SOPAC is also an educational resource providing culturally enriching experiences for children of all ages offering performances that complement the New Jersey state curriculum.  If you're child shows an aptitude for theater and arts, check out Artworks, an arts training program for students 9-17 who are interested in all aspects of theater from creation, live performance, producing and behind the scenes.
And for the icing on the cake.  Five movie theaters, operated by Clearview Cinemas, showing all the latest first-run, independent, foreign and family films.  Not to mention, really good popcorn and treats.
Before or after the show, grab a bite to eat at one of South Orange's diverse ethnic eateries.  There's something that's sure to satisfy ever craving and and taste bud.  Living in such a culturally rich Mecca, Midtown Direct residents know firsthand about emerging and established artists, actors and musicians.  We are lucky to be amongst such a pool of talent. SOPAC is a celebration of our community and a rare and treasured gift.