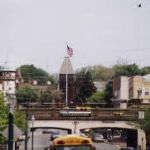 Looking for a new career, interested in sharpening your current skills or maybe simply taking a few courses?  I just read a terrific article from MSN.com Real Estate on the top 10 college-town neighborhoods for adults.  Listed amongst those chosen was Newstead, South Orange, in our very own Midtown Direct community and the home of Seton Hall University — ranked as one of the nation's top universities for both its undergraduate and graduate programs by The Princeton Review, US News & World Report and Bloomberg Businessweek.  Perhaps when choosing a college as a teenager, your criteria might have been a bit different.  But today as an adult with a day job, South Orange — may be just the perfect choice.
And pretty perfect it is…. South Orange is a quaint residential community only 25 minutes from Manhattan on NJ Transit's Midtown Direct Line.  It remains one of only a few towns in New Jersey where the residential streets are lit by gaslights contributing to the Old World Charm and character of the town.
Its neighborhoods are unique and charming including the Newstead section cited in the article and boasting larger, more expensive homes.  Some other South Orange neighborhoods include the historic Montrose section with elegant estate homes, Town Center and the Seton Hall section.  All offer different, but fantastic lifestyle options.
Further appeal is the excellent public school system, ethnic diversity, beautiful architecture and rich culture evident through venues like the South Orange Performing Arts Center (SOPAC), a state-of-the-art performance center attracting red carpet entertainers and a 5-screen Clearview Cinema movie complex.
And that's not all…there's such a real strong sense of community here.  The parent teacher associations in all of its 9 schools are extremely active, an indication of the spirit, kinship and pride of the residents.  Friends meet in one of the remarkable parks or in the busy downtown business section at one of the funky ethnic restaurants or for a quick cappuccino at Starbucks.  It's a truly cosmopolitan area in a suburban setting.  For a more peaceful adventure out, the South Mountain Reservation offers over 2,000 acres of woodlands, trails and bicycle paths where nature lovers can delight their senses and enjoy spectacular views of the Manhattan skyline.  It is something to see!
And, it's never too early to start thinking about college for the little ones – the time goes fast especially living in a great town like South Orange.  So, looking for a college-town or just considering a move, put South Orange at the top of your must-see list – it will wow you!