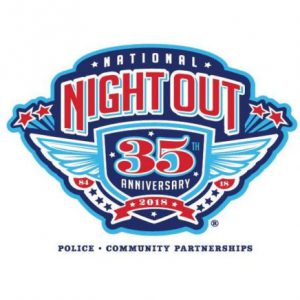 One of the most effective and least costly crime prevention tools being utilized today is the Neighborhood Watch Program. While the mission of Neighborhood Watch is to make neighborhoods safer and a more caring place to live, it also helps forge the relationship between neighbors and their local police departments.
On August 7, millions of neighbors nationwide will take part in National Night Out, a community building campaign that promotes the positive relationship between law enforcement and their communities. National Night Out began in 1984 simply with neighbors turning on their porch lights and sitting in front of their homes to bring light to the Neighborhood Watch programs. Today, National Night Out has grown to include block parties, concerts, festivals, parades, safety exhibits and more.  The Midtown Direct towns will join law enforcement nationwide in celebrating National Night Out this Tuesday. Here is a list of the festivities in our towns:
Morristown – Mennen Sports Arena
Free food, entertainment, ice skating, giveaways, and more! Explore emergency vehicles, and meet the horses of the Morris County Park Police's Mounted Equestrian Unit. Take part in the Child ID Initiative. Free Ice Skating 5 – 9 pm.
Livingston – Oval
The event is free-of-charge and will include food and drinks, helicopter landings, K9 Units, rides, games, a DJ, the Livingston Fire Department's water sprinkler, face painting, exhibits, safety demonstrations and balloon sculptures.
Summit – Village Green
Live concert, food trucks, Chris Clark bicycle stunt show, dunk a cop tank, blessing of badges, displays, demos, free hot dogs
Millburn – Taylor Park
Enjoy great food from your favorite local establishments (Millburn Deli, Gian Marco, Oscars & and Ice Cream Truck), dunk a cop tank, performances by a few local bands (The Parkers & The Undertakers), a moonwalk and bouncy castle for the kids, and an array of police, fire and EMS vehicles to explore from a few different jurisdictions.
South Orange/Maplewood – Flood Hill
Live music.  Kids Zone with bounce houses, water slides, activities, and giveaways, including t-shirts, Frisbees, and glow sticks. There will also be food truck vendors throughout the event.
Maplewood – Dehart Park
The event will feature music, food, and exhibits by law enforcement.
Chatham – Firehouse
A community barbecue, McGruff, the crime dog, along with Chatham Township Police will stop by for a visit. Hamburgers and hot-dogs will be provided courtesy of the Fire Department.
New Providence – Centenial Park
Elefante family band, bounce house, dunk tank and activities presented by the New Providence Police, Fire, EMS, and Recreation Department
Berkley Heights – Memorial Field
Beatlemania Again concert, a celebrity dunk tank, free hot dogs, Italian ice and ice cream. Bring the whole family to meet your local first responders from the Berkeley Heights Fire Department, Police and Rescue Squad.