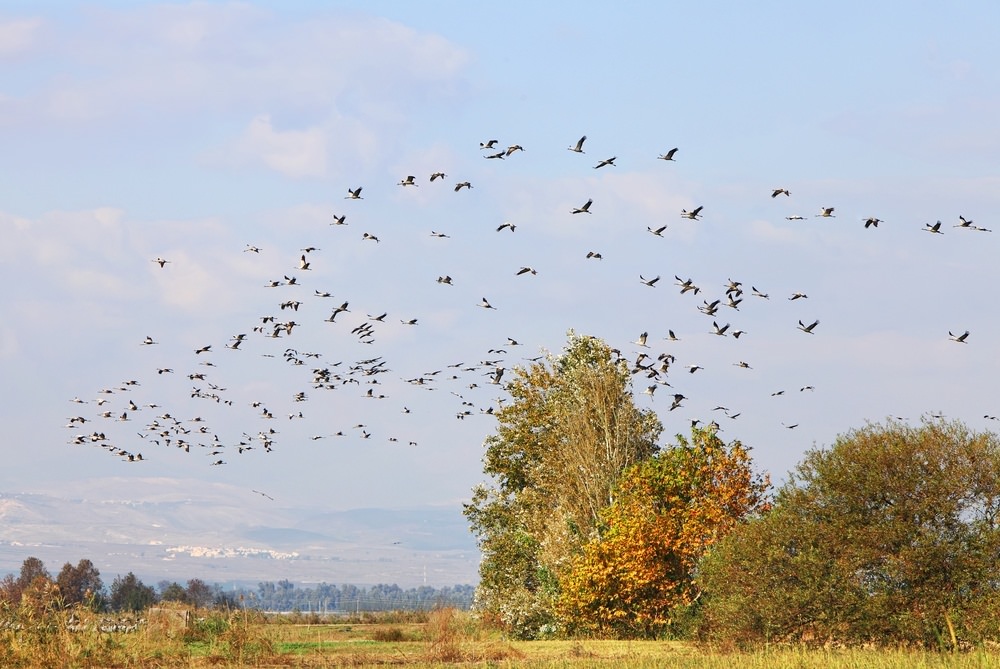 Head to the Cora Hartshorn Arboretum & Bird Sanctuary for two special (and fun) events this month!
On Sunday, October 11th, at 1:00 pm, an Arboretum naturalist will discuss Migration Madness. Learn about the fall and spring phenomenon of migration and what conservation practices you can do at home to assist these animals on their journeys. Included is a guided hike and learning about the brilliant birds that stop at the Arboretum for a rest. Younger participants can enjoy games and stories about migrating creatures. Fees: $5/Member; $10/Nonmember.
For another look at local wildlife, join Arboretum staff for a special evening hike. Creatures of the Night on October 23, from 6-8 p.m., will feature a guided walk through the Woodlands Habitat as you look and listen for your nocturnal neighbors. Then, come back to the building to enjoy activities and local treats. You never know who you may discover living at the Cora Hartshorn Arboretum.
The Cora Hartshorn Arboretum and Bird Sanctuary (CHA) is a non-profit organization located in Short Hills, New Jersey. The origin of the CHA goes back to a gift of land that Stewart Hartshorn made to his daughter, Cora L. Hartshorn, in 1923. Cora developed the area as a place where wild things could grow without harm and where people could come to enjoy them. The "Stone House" was designed by Architect Bernhardt E. Muller, built using trap rock from Stewart Hartshorn's quarry in Springfield, NJ and completed in 1933.
Cora Hartshorn died in 1958 and willed the CHA to Millburn Township. Through the efforts of the Short Hills Garden Club, in 1961 an Arboretum Association was formed to work with the Township in order to protect the area. Building renovations were completed in 2007, which included kitchen and lab facility, bird observatory, and office space. Today, the CHA includes 16.45 acres of woodlands, 3 miles of trails, and a diversity of floral and faunal species. Our woodland volunteers take great care to ensure that plant species indigenous to New Jersey are predominant.
The environmental education programs are designed to provide children of all ages (including adults) opportunities to develop a sense of place with the region's natural areas and acquire the knowledge, attitude, and skills needed to become the future stewards of the environment. The 16-acre forest was once a degraded woodland that is now a demonstration project that seeks to move toward our goal of restoring and sustaining a healthy, diverse woodland habitat where native trees, other plants, and native animals can flourish. Naturalists want you to have the opportunity to step into a scientist shoes for a hands-on experience in conservation science. Through the FrogWatch and Salamander citizen science projects you'll get the chance to collect valuable data that will help scientists gauge and plan for future conservation needs. The volunteer program encompasses a range of activities for all ages and abilities to help nurture a lifelong love of learning and dedication to our local environment. CHA volunteers find themselves taking pride in the work they are doing while helping connect visitors with nature.