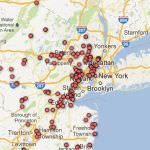 CLICK HERE for an Interactive Map link provided by ENTCHEV Architects
The storm has passed and our great state has suffered incredible losses.  Many remain without power, heat, clean water and food.  In an effort to get out and find some of these necessities many are scrambling to fill up their gas tanks and those fortunate enough to have generators are looking to fill their gas cans.  To assist  people in  finding this desperately needed resource we have compiled information from several different online sources to try and get the news out to everyone who needs it.  We can't guarantee that they will still have fuel but this is a start.  We hope you find this useful and thank you to the Patch community blogs, local residents, twitter  and various online sources for this information!
Exxon Belleville (973) 337-8559. 75 Belleville Ave, Bloomfield, NJ 07003.    refueled early this morning. As of 11:30 a.m. the Exxon still had over 6,000 gallons, according to a Bloomfield police officer directing traffic into the station.
Gas station open on Valley in Maplewood near the playground.
Sunoco on Rt 3 (west-bound lane) in Clifton, just past Tick Tock diner, was open as of 2AM. Attendant told me that they may run out-of-gas around 3AM, but delivery is expected Thursday. Long lines for cars, but pedestrians with gas cans experience very short wait.
RSD Sunoco 10 Sussex Ave East Orange has a line of maybe 50 cars wrapping around the block.
Sunoco on Morris Turnpike open with huge line according to township resident.
Gulf Station in Livingston, 625 S. Livingston Ave., with a line of 100 plus people, according to a few residents.
Unconfirmed stations open on Route 22 in Union and Springfield.
Sunoco in Totowa/ Little Falls on Rt. 46 East open.
Parkway northbound and southbound near mile-marker 151, gas stations open with over 100 cars in line.
Wawa  825 North Black Horse Pk. Runnemede, NJ 07078 open
Denco Gas  2018 Springfield Ave Maplewood, NJ 07040 open
BP 83 MAIN ST West Orange, NJ 07052 open
Hess 67 Central Avenue  Orange, NJ 07050 open
Hess 895 Springfield Avenue Irvington, NJ 07111 open
Hess 26 Central Avenue East Orange, NJ 07018 open
Hess 247 Park & Fifth St. Newark, NJ 07107 open
Hess90 Rt. #46 E/B Caldwell, NJ 07006 open
Gas station open at Exit#1 on Rt 280. open
Other useful links and information
The New Jersey Office of Emergency Management (NJ OEM) published a list of resources at 4:45 pm on Thursday, Nov 1, 2012.