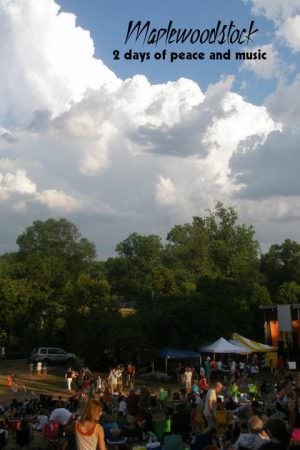 Maplewoodstock 2017 is here! Maplewood's premier music and arts festival is back, and the 14th annual event is bigger and better than ever! Starting in 2004 with just one day and a few local bands, Maplewoodstock has grown year-after-year to a two-day event that now features local bands, regional and national headline music acts, food and art vendors, a KidsZone, and all the peace, love and understanding a community can share! Oh, and did we mention, entrance to the festival is free – yes, we said free!
Typically scheduled for the Saturday and Sunday immediately following the Fourth of July, Maplewoodstock is run completely by volunteers who give time, energy and creativity all year long. Maplewoodstock merchandise, available online and on the streets of Maplewood Village, plus local sponsorships, advertisers and vendor booth fees provide funding for the festival; and as the festival has grown in popularity over the years, the draw for big name acts has also grown. Every March, Maplewoodians sit on pins and needles waiting for the announcement of the headline acts for the Township's favorite community event. And this year was no exception. When it was released that the amazing musical group, Los Lobos, would headline Saturday night's lineup, collective gasps of delight could be heard all over town!
Los Lobos is a multiple Grammy Award-winning Mexican American rock band and Rock and Roll Hall of Fame nominees whose music in influenced by rock and roll, Tex-Mex, country, zydeco, R&B, fold, blues, brown-eyed soul, cumbia, boleros and nortenos. As stated on the Maplewoodstock.com website, the band mixes poetic lyrics, romantic and spiritual themes and eclectic styles to present a musical saga matching the literary traditions of Steinbeck and Faulkner. Los Lobos will close out Day 1 of Maplewoodstock with a set scheduled to begin at 8:15 pm. To learn more about Los Lobos, visit www.loslobos.org.
The headliner for day two will be the incomparable Ruthie Foster. Based in Austin, Ruthie Foster presents live show, which she calls "hallelujah time," that mix "some blues, some folk, some soul, some rock, some gospel" and which are described by Rolling Stone as "pure magic to watch and hear." Immediately preceding Ms. Foster will be the evening's featured artist, The Hip Abduction, which combines indie pop, world pop, and club into a highly emotive and roots-driven sound with a great summery groove. These final acts of the 14th Annual Maplewoodstock will hit the stage at 6:45 pm. Visit www.maplewoodstock.com for more information on the headliners, plus a complete lineup of musical acts.
While the music is the main event of Maplewoodstock, there is so much more to take in. Maplewood's Memorial Park is lined with vendor booths selling an amazing array of goods including jewelry, clothing, handmade items, soaps and lotions, art and items geared toward children. Food vendors, plus a beer garden for the over 21 crowd, provide a seemingly endless supply of refreshments; and facepainting, a KidsZone with amusements, arts and crafts, and bouncy slides add to the fun for the younger age set.
Maplewoodstock is free, carefree, and open to all! Located in Memorial Park just steps from the train station, it is an event that speaks to the heart of this artsy, neighborly community. Bring your blanket or lawn chairs, grab some sunscreen and your cooler and set up for two days of the best music and arts festival in our area!
Maplewoodstock will be held July 8th and 9th, 2017 beginning at noon. Come and experience a taste of Maplewood and all we have to offer and hey, maybe you'll even consider joining our amazing community. The Sue Adler Team SOMA is always available to answer all of your real estate needs – we love living and working in Maplewood/South Orange and are proud to share all that our community has to offer. Give us a call at 973-936-9129 or email us at [email protected].