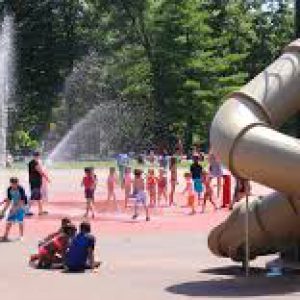 Spring is here! The temperature is warmer. The days are longer. It's time to drag the kiddies from the couch and reintroduce them to the outside.  The good news is that the area is full of amazing playgrounds where children can slide, swing, climb and splash the day away.
Here are some local playgrounds that will make you wish you were a kid again:
Ponderosa Farm Park, Scotch Plains
This popular Park has two great play structures, one for toddlers and the other for school-aged kids. There are slides galore including a twisty tube slide, climbing wall, crawl tunnels and a rope bridge. The gigantic rope tower and spinning contraption will keep your kids busy all day. At the center of the play space, kids can cool off in the motion-activated spray fountain. Don't forget to bring sunscreen! This playground doesn't get any shade.
Regatta Playground, West Orange
Inspired by the nearby reservoir, this spectacular themed play area features a wave-like rubberized safety surface and a series of play equipment designed to look like boats. A large open area with a synthetic grass surface and concrete pathways link the playground to the nearby Clipper Pavilion picnic area and paddle boat launch. Your kids will love exploring the many swings, port holes, climbing rock walls and will enjoy the many shaded areas to run around along.  Spend the morning at the playground, grab a rest on the swan boats and then enjoy "tee time" at the 18-hole mini-golf course. Finish out the day at the Turtle Back Zoo and come back with the teens for Tree Top Adventures.
Verona Park, Verona
After a huge revamp, Verona Park reopened last May with brand-new play apparatus and enhanced safety features. There's still plenty of wide open space for kids to run, but now the playground itself is enclosed by a fence for security.  Slides and other features are built into hills, so children do not have to climb ladders to reach the top of the slide. They just walk to the top of the hill. A large climbing structure adorns in the playground's center, surrounded by age-appropriate apparatus, separately designated for ages 2 to 5, or 5 to 12. Bring your buckets to fill and dump in the water play area full of sprayers. An awning was installed last September to provide shade and prevent the equipment from getting too hot!
Van Saun Park, Paramus
Van Saun Playground in the center of Van Saun Park is the mother of all playgrounds. Its filled with fun activities for children of all ages.  The huge playground features climbing structures for big kids, small slides for toddlers, plus lots of balance beams, swing sets, and rock walls galore. Next door, a spray ground will entertain the kids and offer fun interactive play especially on a hot and sunny summer day. Children run and squeal with delight as they get splashed with water from all angles. They can also take a ride on the old-fashioned carousel and miniature train. If that's not enough, you can also explore the zoo which is home to lions, reptiles and other farm animal. Sounds exhausting!