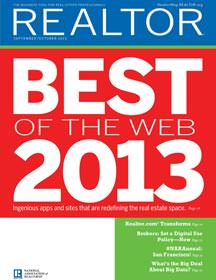 Realtor Magazine, the official magazine of the National Association of Realtors, released its 2013 Best of the Web Real Estate sites naming www.sueadler.com The Sue Adler Team as best website and blog in the country for Teams.  The list names various categories:  Individual, Team, Company and Best Use of Free Social Network. Recommendations were selected by the magazine's editors with input from readers recognizing those real estate groups who create superb examples of online real estate space and tools.

According to Realtor Magazine, "The Keller Williams Sue Adler Team is all about highlighting quality of life in her NJ towns.  The web site has no shortage of videos, blog posts and photos covering local festivals, dining spots, park events, and youth activities.  New Jersey home buyers seeking convenient access to New York will learn from sueadler.com what the Short Hills area has to offer.  Best of all, the content is fun and engaging.  Web pages are framed with a clearly labeled drop-down navigation system that's itching to be clicked on.  A front-and-center IDX search includes an interactive area map, complete with mass transit commute times to Manhattan.  And the site is customer-centric, successfully telling the team's business story through a robust library of client testimonial videos."

Hear it Direct, my consumer panel conference for the real estate industry is held twice a year to get a true understanding of what is important to the "google generation" . The insight we gain from these focus groups of buyers and sellers gives my team and others in the industry the ability to create the best possible customer experience from online research to closing. After all, by listening to the voice of the consumer, we can better serve the needs of our clients. On behalf of my entire team, we thank Realtor Magazine for this amazing recognition.
Please check out the article to learn more about the other winners!