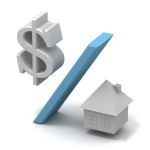 According to the Wall Street Journal article on September 16, 2012, mortgage lending declined to its lowest level in 16 years.  Based on 2011 statistics, the article cites that federal regulators attributed the low numbers to the weak demand for mortgages in combination with tighter lending standards.  In summary, banks have become much more cautious about making loans.
The article cites that banks funded 10% less mortgages in 2011 from the year before – about 7.1 million – the lowest number since 1995.  This information was analyzed by the Federal Reserve using data submitted by over 7,600 lenders under the Home Mortgage Disclosure Act.
Loans funding house purchases fell by 5% last year and stood 64% below the 2006 level at the peak of the housing market.  And more sensitive to modest swings in interest rates are refinances which also fell by 13% in 2011 from 2010, rebounding at year end.
In 2012, the housing demand improved slightly as buyers and investors have been paying cash to buy up foreclosures and distressed properties.  Important for homebuyers to consider is a good credit score.  As lenders tighten standards, borrowers must reflect on the reasons they are cracking down.  The facts speak for themselves  —  almost 23% of all borrowers who applied for a mortgage were denied.  The Fed report attributes this to issues with home appraisals and an applicant's debt-to-income ratio playing a big part in a lenders decision.
In addition, or possibly because of the tougher standards, the mortgage process itself appears to be slowing down.  The average time from application to closing for loans seems to be a little longer as well.
So as you apply for a mortgage or refinance an existing loan, take into consideration what's happening in the marketplace so you can maximize both your dollars and your time.  And, as always, you can count on my team to answer any related questions or assist you through the process.