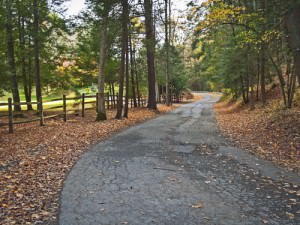 There are many hidden gems amongst our Manhattan commuter communities.  For instance, Riker Hill Art Park, once a former US Army Nike Missile Base project, is today a unique public artist haven in Livingston thanks to the help of the National Parks Service Federal Lands to Parks Program.  Together with the Walter Kidde Dinosaur Park and Becker Park, it is part of the Riker Hill Complex.  The Art Park provides studio space for working artists.  There's also a collection of outdoor sculptures.
Historic profile
Riker Hill is a 204.68-acre complex located off Beaufort Avenue in the western region of Essex County in Livingston. It is comprised of three parts:
1). The Riker Hill Art Park, with 42 acres was acquired in 1977. The former army barracks are now occupied by sculptors, artists and craftsmen.
2). Dinosaur Park, a 16-acre lot acquired in 1970 – known throughout the states as the site of the smallest dinosaur tracks ever found. Though the park is not open to the public.
3). Becker Park, a 147-acre lot of undeveloped parkland acquired in 1969 in part through the Green Acres Program.
Riker Hill Art Park in Livingston was purchased from the federal government for one dollar! It now provides a unique opportunity for local artists to work together in a communal setting and is the only self-supporting park in the park system. The art studios are rented to the artists and the art instruction, the gallery, concerts and special events produce revenues for the county that help support the cost of the park's operation.
Distinguishing features
Art studios – graphic arts/ceramics /painting
Craft center – sculpturing/woodworking/glass blowing
Hill crest provides a panoramic view of western Essex County.
The collection of outdoor sculptures in this Livingston park is spectacular. These pieces, which were donated to the park, have been valued at more than $300,000.
RIKER HILL 
PRINT Map
To view the park map (pdf), you will need Adobe Acrobat Reader. It's a 100 dpi image and ensures clear printing and a short download time. 
Download Viewer