63 Main St
Chatham, NJ 07928
(973) 701-9200
http://www.scalinifedeli.com
About Scalini Fedeli
Locals who've been in the Northern New Jersey area for over 20 years rave about Scalini Fedeli as one of the favorite Italian restaurants here. In an area that's littered with Italian restaurants claiming to be the most "authentic" joint in town, Scalini Fedeli is a place that makes everyone feel like family and does it with food that's high quality and always delicious. Think of the typical Italian American fare you know and love and that's what you'll find at Scalini Fedeli.
What to Order
The quality of food at Scalini Fedeli is what sets it apart from other restaurants in Northern Jersey. The cut of meats they use is only the best and all sauces are made on site, from scratch. You won't find anything coming out of a jar or even sauces that have been made in large quantities and stockpiled to use throughout the month. At Scalini Fedeli, they regularly make the sauces in small batches to ensure the quality is on par each and every time.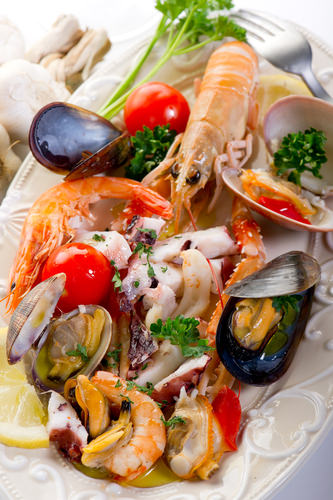 Porcini ravioli is served as an appetizer, so what's not to love? The appetizer is so large that it could easily serve as a meal. For dinner, there's veal chops and duck breast. One of the nice touches is a complimentary anti pasti comprised of shrimp over mushrooms. While the prices at Scalini Fedeli are high, you can't argue with a complimentary small appetizer that includes shrimp. It's touches like this that make this a favorite restaurant for locals. You're getting major bang for your buck at this Italian restaurant.
There's also a seafood ragu stacked with lobster, mussels and large shrimp. This can be ordered as an appetizer or a meal. If you're craving a hearty, hefty meal, go for the short ribs. Served with mashed potatoes, the short ribs at Scalini Fedeli are always on point. They're never too fatty or lacking meat, and they're served in a red wine sauce that makes the meat among the most tender you'll likely ever taste.
If you want something simple, yet full of flavor, the bacon-wrapped shrimp are the way to go. The shrimp are large and wrapped with just enough bacon to add a smoky element to the dish without overpowering the seafood. All of the food at this restaurant is high quality and this is reiterated time and time again in several reviews.
How Much?
The prices at Scalini Fedeli are high. There's a pre fixe meal for $54 that includes an appetizer, an entree and dessert. This is a reasonable price considering the portions you get at Scalini Fedeli and the quality of the food. If you add wine to the mix, you can expect the tab to be over $150 per person, but there is a large selection of wine to choose from. There are more reasonable wines that are $8-$10 a glass, as well as bottles that cost over $100. This makes Scalini Fedeli a great place for a first date or celebrating a milestone.