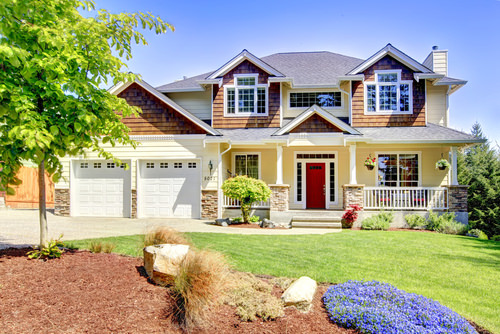 Often times when we are getting a house ready to sell we forget about one of the most important parts, the exterior. This particularly includes the front door and the yard.  It is statistically proven that homes that are staged properly will sell 50% quicker than those that are not, and often times at a 10% higher profit. Typically it is believed that only 10% of the potential customers that are looking at your home can visualize the potential that it has and this is why you need it looking its very best.
The curb appeal is pivotal to this. Many statistics show that as high as 70% of the homes bought were based upon initial impressions. Unfortunately people do judge by appearances and you want yours to sell your home the best way it can.
Take It to The Curb
If you want to give a good first impression one of the best approaches is to start by just walking up to your house. Take notes as to what it looks like and how it makes you feel. Don't look at the potential you want it to be, look at it as it truly is and then see what needs to be done to reach that potential you are striving for. Take the time to look over the way your lawn or front landscaping looks, and the porch or front of your home. Does it look in order and clean, or does it need work? What about your front door, does it look inviting but strong, or is it dirty and old?
If you feel that any of these are not where they should be take a look online or at some home improvement magazines and see where others have succeeded. They say that imitation is the best complement, and taking this approach to getting the front of your home up to par is a really effective method to achieving a higher buying potential.
The Front Door
There are many stagers who will tell you to keep your front door the same color as the exterior of your home to keep things subtle but for anyone who has ever seen an accent door, such as a red door on a dark brick home, you know what power this can have. The important thing when it comes to the door is that it is clean and well kept. If needs be it may be a good idea to purchase a new energy efficient door. This is a good selling point and the extra investment can have a good pay off in the end.
Adding Numbers Can Add Punch
One of the final recommended pieces of advice given by stagers is regarding the numbers on the outside of your home. This can seem a bit obvious, but you may be surprised as to how many people neglect to take care of this part of their home. It is critical that you have clearly marked street numbers and not only because this give some strength to the look of your home, if it is done right it will also ensure that those coming to see your home can find it.