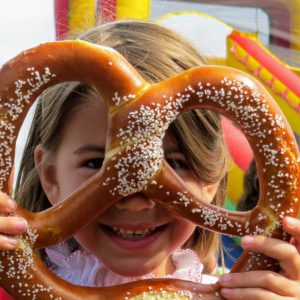 Fall Harvest Festival at Alstede Farms, Chester
Western New Jersey is home to many wonderful and charming family farms. One of the best known is Alstede Farms, which for years has opened its orchards to customers to pick their own apples an hosted a Fall Harvest Festival.  A celebration of the season, the event is a wonderful way to spend a fall day, especially if you have children. Activities include a tractor-pulled hay ride, maze, petting zoo and more. Meanwhile, everyone will enjoy picking their own apples plus other seasonal fruits and vegetables and trying some of the freshly baked pies, apple cider donuts and other delicious offerings. You're not allowed to leave without tasting the fresh apple cider  and if you know what's best for you (you can be sure that your kids do), you'll also have a taste of the seasonal homemade ice cream.
Rahway's Culture Crawl Festival, 9/21
Held in downtown Rahway, enjoy a one day explosion of arts, culture, dance and music. The streets will be lined with musicians, visual artists, performing artists, film makers, craft artisans and much more stationed throughout the downtown – in restaurants, salons, retail shops and more. The event features live performances, interactive art, sculpture, video, audio installations, spoken word, film, music, and unique vendors.
Festifall in Westfield, 9/22 10:00 – 4:00pm
Don't miss this flagship autumn celebration that transforms the streets of Downtown Westfield into a shopping bazaar with more than 300 vendors plus a feast of culinary delights, non stop music on the main stage, and a KidZone packed with rides and activities for the little ones.
Maplewood Art Walk and Music Fest, Maplewood 9/22
Take a stroll through Maplewood and enjoy the village's annual Art Walk & MusicFest. Shop for fine art and handcrafted jewelry, enjoy live music and performances and visit the one-of-a-kind local merchants and local eateries.
Welcome Fall Festival & Classic Car and Bike Show, Union 9/28 12:  – 6:00pm
Take a trip down memory lane on Stuyvesant and Vauxhall in Union and welcome a variety of classic cars and bikes.  In addition, there will also be a food court, back to school zone, chili bake off, ice cream eating contest and much more!
Chester Oktoberfest, Chester 9/28 & 9/29
Sponsored by the Chester Lions, enjoy this family friendly festival and antique show at Chubb Park. The event features live music, entertainers, bounce houses and other inflatables, games, a climbing wall, and many more activities! The Chester Lions Club food tent will offer a variety of authentic German food such as bratwurst, German potato salad, sauerkraut, smoked pork chops, apple strudel, delicious beehive cake and authentic plum cake.  Hot dogs, ice-cream, funnel cakes, and other more traditional fare will also be available on site.
Rocktoberfest, Millburn 9/28
A music festival fundraiser held in Taylor Park for Millburn's Education Foundation, this event features 25 bands and solo artists.  With Oktoberfest-inspired food and drinks, activities include a fun run,tennis basketball, spike ball and art competitions plus an arts & STEM hands-on Expo. ! Oh yeah, there will be a Beer Garden for adults and other fun activities for the kiddos.