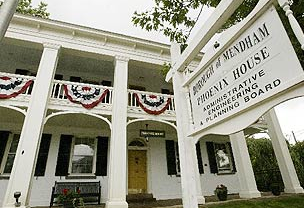 Here's a little secret I'm about to share that is within only 15 minutes of our NJ Midtown Direct communities — and it starts and ends with the letter "M."  Give up?  It's Mendham Borough, NJ. 
Ranked #1 best places in NJ to call home by New Jersey Monthly's 2013 Top Towns survey, this six square mile town is rustic and posh all at the same time.  Mendham is comprised of a township and a borough.There's Main Street in the heart of Mendham Borough bordered with historic buildings and inns and even an old fashioned drug store with candy and trinkets for the kids; very reminiscent of the old five & dime stores.Adding to that small town feel is the Labor Day Weekend celebration, the borough's biggest annual event, bringing together residents and friends for a weekend of parades and fireworks.People still sit on their porches with neighbors and share a strong sense of community pride.
But beyond the center of town are hills graced with charming colonials, antique cottages and 1970's developments on once existing farmlands.  Homes range from $500,000 to $5 million multi-acre estates owned by CEO and executives of large companies. 
So how was this quiet, bucolic town chosen as #1 in NJ? The rankings are based on most recent home prices, property taxes, schools, crime rates and other various lifestyle attributes.Schools are always top priority when choosing a community and Mendham schools are top notch.There is one elementary, one middle and the high school is shared with Mendham Township, Chester Borough and Chester Township – West Morris Mendham High School which ranked #45 in the state by 2012 New Jersey Monthly magazine.
Because of selective capital projects and sharing services with other towns, Mendham Borough's administration has been able to keep property taxes relatively steady.This is definitely an attractive allure for this small town.And with home values rising and a big assortment to choose from – traditional to modern, small to big – you'll find there's a good chance you'll fall in love with this town. 
I feel very privileged to be listing a spectacular, one-of-a-kind Mid-Century modern Mendham estate and to have learned so much more about what this town offers.  The air is so crisp and invigorating and the residents warm and welcoming.
If you're considering a NJ move, put Mendham on the list of places to visit.  It's a special kind of place.