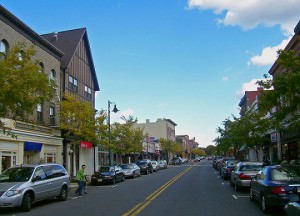 The city of Summit was incorporated as Summit Township by an Act of the New Jersey Legislature on March 23, 1869. Summit was then reincorporated as a city on March 8, 1899. The name of the town may refer to its position, which is at the top of the Second Watchung Mountain. It may also refer to the Summit Lodge, a house where James Kent, a jurist, moved to in the year 1837, which today stands at 50 Kent Place Boulevard. It might also be named as such when a local sawmill owner granted passage to the Morris and Essex Railroad, for a route to the "summit" of Short Hills.
Notable Citizens of Summit
There are a great number of notable citizens in Summit New Jersey.
Paul Baier: He is an American professional ice hockey defenceman, now playing with the Orlando Solar ears of the ECHL. Prior to playing hockey professionally, he attended Brown University. He was drafted in the 3rd round, 95th overall, by the Los Angeles Kings in the year 2004 NHL Entry Draft. Unsigned from the Kings, he then participated in the Buffalo Sabres training camp before the 2008-09 season. After his full professional season, he was invited to Ottawa Senators training camp and played the 2009-10 season with AHL affiliate. He became a free agent for the 2011-12 season. Of course, everyone loves a jock from Summit, New Jersey.
John Bardeen: This man is the complete opposite of the Paul the Hockey Player. He was an American physicist and electrical engineer. He was the only person who won the Noble Prize in Physics twice. The first one was in the year 1956 with Willliam Shockey and Walter Brattain for the invention of the transistor. The second award was in the year 1972 with Leon Cooper and Robert Schrieffer for the fundamental theory of conventional superconductivity, also known as the BCS Theory. The invention of the transistor revolutionized the electronics industry, giving way to the Information Age. His invention made every other modern electronic device to be possible today, right from telephones, computers, and even missiles.
Mark Cesark: From jocks to scientists, let's head to artists. Mark Cesark is an American sculptor. He is quite known for his use of found and scrap steel. He earned an undergraduate degree from Alfred University in New York. After which, he completed a Master of Fine Arts at Massachusetts College of Art in Boston. For the sake of his art, he scavenges junk yards and farms, searching for interesting pieces of steel. And when he finds enough amount of scraps, he assembles these to beautiful sculptures. His inspirations are Mark Rothko, Jackson Pollock, as well as post-war movements and artists.