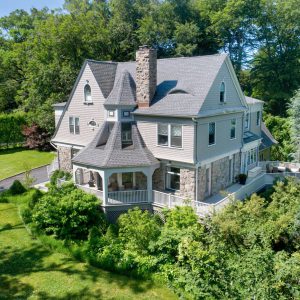 We love houses! Over the years, we've shown and visited thousands of houses consisting of every shape, color, size and architectural style imaginable. Now and then, one comes along that makes us step back and say "wow". These houses are so beautiful or unique that we can't help ourselves from sharing them with our friends.
226 Summit Avenue in the prestigious Northside section of Summit is a beautiful example of late nineteenth century Victorian architecture. Built in 1895 and recently renovated, this 6 bedroom, meticulously detailed home strikes a perfect balance between the preservation of period details and modern design suited to contemporary living. Great care has been taken to maintain the original character of the house, and custom built fireplaces, an ornate staircase and much more not only showcase the opulence of a bygone era, but also blend beautifully with the modern and luxurious upgrades, such as the Gourmet's Chef Kitchen or Sonos sound system, that have been added throughout the home. The simple and calm tone on tone neutral walls provide the perfect backdrop for bold design elements. Oversize architectural windows let in brilliant sunlight that creates dazzling reflections off the flawless hardwood floors in addition to creating an open, airy feel that permeates throughout all levels. Featuring the distinct roofline and expansive porch that are so closely associated with this style of home, this modern Victorian is also perfectly located within walking distance to downtown Summit.
Priced at an amazing $1.75 million, this luxurious escape could be yours. To schedule a visit, contact the Sue Adler Team.