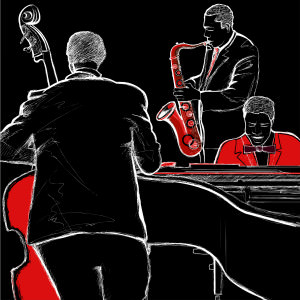 South Orange, New Jersey has long been known for its commitment to arts, music and culture.  And for the last three years, it has been developing a new reputation as a mecca for the all American music invention called "The Blues".  Sunday, September 8 is the 3rd Annual South Orange International Blues Festival featuring performances from some very exciting acts in the field of blues.
Long time South Orange Village resident Mike Griot of PWI Entertainment is a veteran musician and producer.  Years ago, he envisioned an on-going project to expose the excitement and diversity of blues to a growing number of fans.  Taking a break from his won touring schedule, he decided to create a world-class Blues festival right here in South Orange.  Many other contemporary music forms have roots in the blues but Griot felt the genre was still under-appreciated by many.  He had the desire to open new ears to a traditional art form.  That inspired the birth of the SOIBF "to bring a robust blues experience to the culturally-rich melting pot of northern New Jersey."
Gathering experts in finance, management, production management, digital marketing, media, public relations, marketing communications, advertising, and event management to launch the first South Orange International Blues Festival in 2010.  Torrential rain on that inaugural festival day didn't sway the excitement of the crowd that gathered in South Orange's quaint downtown area.  Flood's Hill took on a new meaning that day and "Rain-stock" became a local legend.  Since then, the fest has grown the be the largest FREE blues festival in all of North Jersey.
Even though SOIBF may have become the "biggest", size is not the ultimate goal.  The mission of SOIBF is "to create a superior festival experience through performances, community collaboration, and educational exhibits that are innovative in approach and execution."
The SOIBF seeks to:
•        Provide a mid-Atlantic cultural hub for the Blues
•        Bring the world's passion and love for Blues music back "home"
•        Showcase internally-renowned artists and local talent
•        Establish northern New Jersey as a premier cultural destination
The SOIBF is currently co-sponsored by Essex County Executive Joseph Divincenzo Jr. and the Board of Chosen Freeholders, the Mental Health Association of Essex County, Investors Bank, PWI Entertainment and PWI Media.
This year's line up is outstanding and features the following:
South Orange International Blues Festival
2013 LINEUP — SUNDAY, SEPTEMBER 8th, 2013

11:00am –12:00pm             BILL SIMS, JR.
12:20pm – 1:20pm              AL GOLD
1:40pm – 2:40pm                LIL' BASTAD
3:00pm – 4:00pm                DAVE STRYKER & BLUE TO THE BONE
4:20pm – 5:20pm                DEAN SHOT
5:40pm – 6:40pm                MICHAEL HILL's BLUES MOB
7:00pm – 8:00pm                BILLY HECTOR
HOSTED BY  "CULINARY ROCKER"  JOHNNY CIAO
Make your plans to attend today!  Admission is covered, what else do you need?  Parking?  A ride?  That's covered too.  South Orange Parking Authority won't give anyone the blues for this event.  They have organized a free "Park & Ride" service for the 3rd Annual South Orange International Blues Festival with 30 minute round trip runs throughout the day.  Park your car for free in the New Jersey Transit lot near the Church Street entrance/exit.
The buses will take you from there right to the Festival.  Shuttles run from 10:30am to 9pm.
This event is scheduled for Sunday, September 8, 2013.
11:00 AM – 8:00 PM
Essex County South Mountain Reservation,  9 Cherry Ln, West Orange, NJ 07052 (enter off South Orange Avenue)
ADMISSION IS FREE!