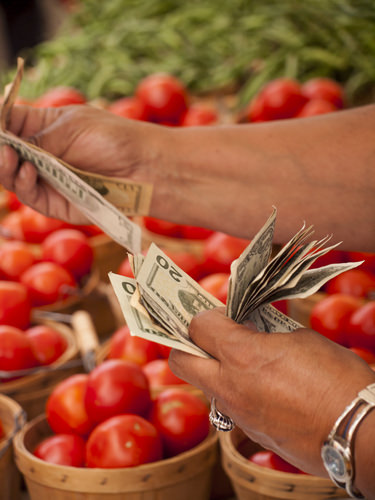 The Summit Farmer's Market has already returned to its regular location at Park & Shop Lot #2, on the corner of DeForest Avenue and Maple Street. The market is open every Sunday, from May 12 to November 24. Rain or shine, shopping starts at 8:00 in the morning to 1:00 in the afternoon. Such Farmer's Market still continues to be a popular Sunday morning destination for moms, grandmas, and even the fathers. It is actually for everyone, people of all ages. This is a place where people can buy fresh, local and regional goods for a cheaper price. These include a variety of organic produce, plants and flowers, as well as specialty items.
On June 9, a Sunday, the 20th Anniversary Party will be celebrated at the market. So head on down to the market, come and join the fun. There are a lot of things being offered.
Aside from that, there is a new initiative which has been very well received by the patrons and farmers at the market. This is what they call as the G.I.F.T. or Give It Fresh Daily, a produce donation opportunity. All produce donated to G.I.F.T. are distributed to different organizations to provided food for the needy. During the 2012 season, more than 5,000 lbs of food was donated to SHIP and St. Anne's Kitchen. For more information regarding this matter, please visit the official website.
Details for the Farmer's Market
What: Summit Farmer's Market
Where: May 12 to June 21: Maple St./DeForest Ave.; June 30 to Augest 25: Beechwood Rd./Bank St.; September 1 to November 24: Back to Maple St./DeForest Ave.
When: From May 12 to November 24, 2013
Selling Hours: From 8:00 am to 1:00 pm
Contact No.: 908-277-6100
Email Address:

[email protected]

Official Website: http://www.summitdowntown.org
Organic Farmers
The best goods are organic, so they say. Although this may be a bit more expensive compared to ordinary goods, the prices are definitely worth it. During the farmer's market in Summit, there will be two sellers of organic goods. These are the farmers from Cherry Grove Farm, Princeton and North Slope, Lambertville.
The Jersey Farmers
As promised, there will be a lot of sellers that will be providing you with the cheapest and freshest farm products. These include the Corner-Copia from Robbinsville, the LL Pittenger Farm from Andover, Phillips Farm from Milford, Race Farm from Blairstown, as well as the Vacchiano Farm from Washington.
List of Specialty Purveyors
Brownie Points Bakery
Cafe Mavi
Ester's Treats
Gourmet Nuts & Fruits
Green Market Dairy
Gourmet Nuts & Fruits
Hoboken Farms
Jams by Kim
Lizzmonade
Mangia
Pickle Licious
Paolo's Kitchen
Pizza Vita
Shore Catch
Stefans & Sons Meat
Taqueria Autentica
Tassot Apiaries
The Farmers & The Chickpea
Valley Shepherd Creamery
WoodsEdge Wools Farm
Yona's Gourmet Delights
So, what are you waiting for? Visit the Summit Farmer's Market every Sunday until November.