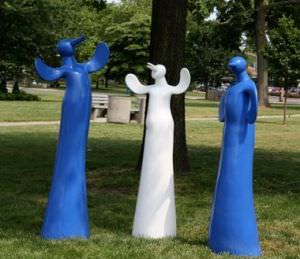 Summit is an amazing town in so many respects. The lovely homes and town center are just a few reasons why this community charms residents and visitors year after year. Now there's yet another reason to celebrate this multi-faceted community. Summit Public Art is proud to welcome a new installment of sculptures to its art collection. The work is a trio of pieces titled Envols by French sculptor Pascale Fournier. Fournier was born in the U.S. but was raised in Paris, where she studied set, costume design and fine arts and worked with famous playwrights and directors like l'Opera de Paris and la Comedie Francais. She began her work as a sculptor and painter in the 1990s, and has since been completely devoted to her art. Fournier works mainly with resin, fire and clay, and her work has been showcased internationally, including in France. Now, her sculptures are finding a new home in Summit. The Envols sculpture trio is near Maple Street on the Village Green.
Envols is meant to depict the complexity and multi-faceted nature of the human spirit. The sculptures have a majestic feel to them and are painted in eye-catching colors to quickly get the attention of the public in a theater-like fashion. The sculptured work is meant to show how humans are constantly torn between an aspiration for greatness and the comfort of mundane life routines. You can learn more about Pascale Fournier's work by visiting www.pascalefournier.com.
In addition to Fournier's sculptures, there are more than 15 sculpted works displayed on the Village Green and other Summit sites, including a new piece of kinetic artwork at City Hall. Over the past decade, more than 35 works have come through Summit, where they've been installed for at least six months. What's more, there are also permanent works of art in the city such as the art glass windows in bus shelters on Broad Street. A gate sculpture will soon be installed in East Summit on Broad Street as well.
Summit Public Art is significantly responsible for the artistic works that are displayed in the city. The city established the Mayor's Partnership for Public Art in 2002, and is now run completely by volunteers and funded solely through private donations and grants. Summit Public Art has been placing sculptures around the city for the public to enjoy since 2004. At the end of 2010, Summit Public Art has raised more than $175,000 to support its current and upcoming projects. To learn more about Summit Public Art, visit http://arts.cityofsummit.org.
This holiday season as you're strolling the streets of Summit, enjoy the beauty of the season and the wonderful art all around you.