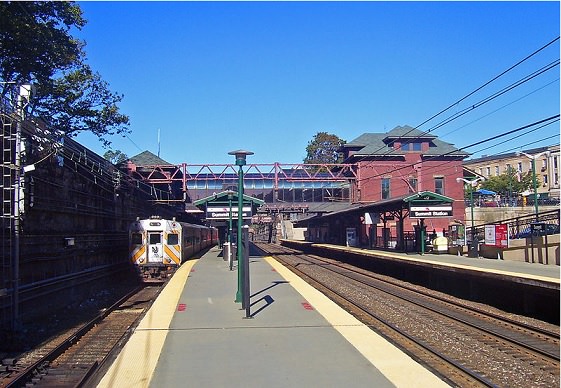 The Summit Station is a train station located in Summit, New Jersey. It is served by New Jersey Transit's Morris and Essex Lines. The station can be found between the Union Place on the north and the Broad Street down south. There is a station access on either side, between the Summit Avenue on the east and the Maple Avenue on the west. The station was built way back in 1904 to 1905 by the Delaware, Lackawanna, and Western Railroad. It is quite notable for being one of the NJ Transit stations where there are platforms below the street level.
The Layout and Services
There are about three tracks and two platforms located at the station, Track 1, 2 and 3. The latter is more commonly known as the Wall Track, located on the Broad Street side. The platform for Track 1 can be accessed through the Station overpass, or right from the Station parking lot. The Track 2 and Wall Track can be accessed through the Station overpass in a shared platform.
During the early morning hours, the trains on the Gladstone Branch come from the Gladstone Station, wherein the final destination is at Hoboken Terminal. The trains which go to New York Pennsylvania Station start at Dover. As of the year 2009, the Track 1 has been mainly used for all trains towards the west, either Dover or Gladstone. The Track 2 and Wall Track are used during the entire week, from Monday to Friday, for trains heading east, the New York and Hoboken stops.
The New Jersey Transit will add a pocket track near the Summit Station. The main purpose is for the easy turn-around of trains when the rush hour comes. Because of the current state of the system, trains in Summit usually clogs up. With the new track, the situation will be at ease. The said service will be ready when the year 2017 comes. The said track will be able to accommodate 12 car trains, allowing NJ Transit to increase the capacity for New York and Hoboken bound trains.
During weekends and Holidays, Track 1 is not being used. By 2009, the trains from Gladstone use Summit as the final destination. The same train is then used for Gladstone bound train coming from the Summit Station. Trains from Dover follow through to NYC, picking a number of passengers at Summit Station through Track 2.
Amenities Within the Summit Station
Waiting for a train ride can be frustrating and troublesome at the same time. That's why the Summit Station provides a number of amenities to give comfort to passengers. The station waiting room comes with a small coffee and newspaper shop usually open at morning commute time and during the afternoon rush hour. Status screens were already installed on the platforms to the next train.