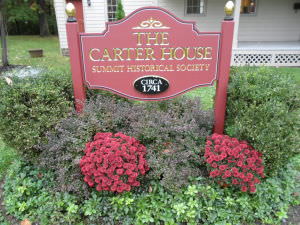 In 1929, The Summit Historical Society was formed, however, it was not active until the early 1960's. By the year 1962, the Summit Herald noted that there was no historical society in Summit, only to find out that one already existed. Motivated by the renewed interest in the history of the town, The Summit Historical Society began to actively pursue the preservation of its history, as well as the dissemination of information regarding its past. Currently, there are a large archive of photos, genealogy files, house files, maps, newspapers, postcards and yearbooks on display. This archive also includes city directories which date back to 1890.
Throughout the years, The Summit Historical Society had a number of "homes" before it finally settled at the Carter House located at 90 Butler Parkway in Summit. During the early years of the society, the collection was stored in basements and attics of the founders' homes, and even in boxes under their beds. Later on, a room in the Wilson School was reconfigured. But by the year 1986, the Society finally moved to the Carter House, the permanent home to materials of Summit's history.
Volunteers are generally available during Tuesday mornings from 9 am to to noon, Wednesday afternoons from 1pm to 4pm and Thursdays from 3pm to 5pm. All the materials found in the archive of the society is available to the public. The society's major annual fund raiser event is called as "The Taste of Summit," a highly anticipated yearly event.
The Carter House
The Carter House is believed to be the oldest existing building in all of Summit. It is a property along the Passaic River, now known as River Road. The land was previously owned by Benjamin Carter in 1740. In the mid-1980s, the home was sold to Glenn Johnson who was approached by historians regarding the preservation of the house. By the year 1986, the home was moved to its current location on Butler Parkway. Johnson did not only donate the house, but also funded  part of the cost of moving it, and for the rest of his life he remained a supporter and friend of The Summit Historical Society.
And today, the home is fully refurbished. The first floor features an exhibit room and  Victorian library lined with local history books. There is also an early 1800s-style dining area, modern kitchen facility and a colonial-era kitchen. The private caretaker's apartment is on the second floor.
The Summit Historical Society Details
Location: 90 Butler Parkway, Summit, NJ 07901
Contact No.: 908-277-1747
E-mail Address: 

[email protected]

Official Website: http://www.summitnjhistory.org/