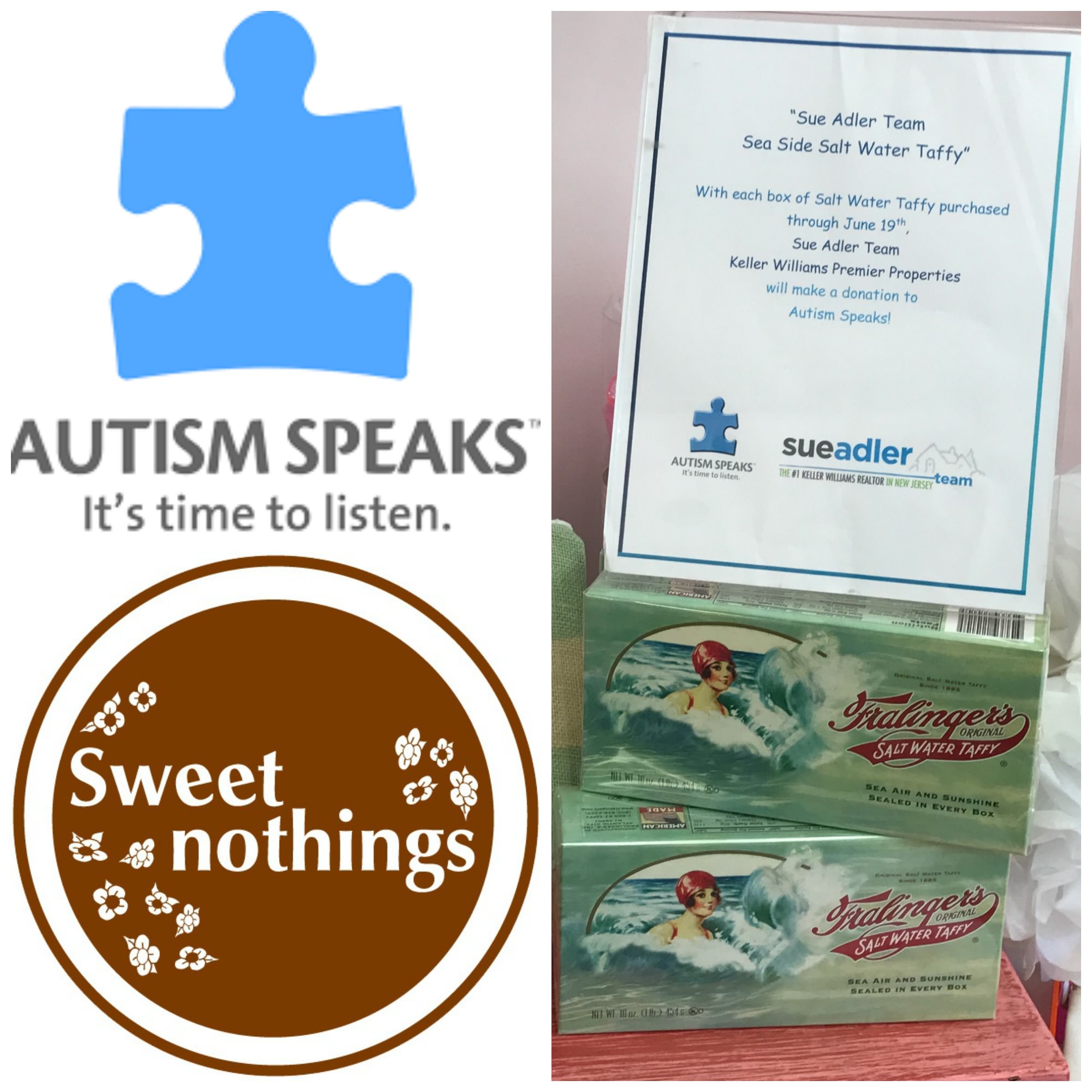 This week's warm, summer-like weather is sure to have us dreaming of lazy days spent on the beach, taking in the ocean breezes and strolling the boardwalk in search of our favorite seaside treats – French fries, funnel cakes, and everyone's favorite, salt water taffy!
The good news is you don't have to drive down the shore to get some of New Jersey's best salt water taffy! That's right, you only have to go as far as downtown Summit, NJ, to Sweet Nothings, truly one of the sweetest spots in town. Now through June 19th, Sweet Nothings is featuring "Sue Adler's Sea Side Salt Water Taffy"! For every purchase of this delicious Fralinger's taffy, the Sue Adler Team will donate a portion of the proceeds to Autism Speaks.
Owned and operated by sisters, and Summit natives, Elisa Brooks and Donna Puzella, this local business believes in giving back to the community and offers support to local schools, organizations and charities. This commitment to giving back is a family affair too. Several years ago, Elisa's very young son, Zachary, began a campaign to raise awareness of autism to honor his twin brother, Jack, both of whom can be seen helping out at the shop. Over the past few years, they've been blessed to see their own commitment to giving turned around and shared back to them through a growing list of local businesses, organizations, schools and individuals who regularly support the Autism Awareness campaign.
The Sue Adler Team is committed to forging community partnerships with our local businesses and working together to make a difference in the lives of those around us, and we're honored to join forces with Sweet Nothings to support Autism Awareness. So if you need a sweet little taste of summertime goodness that brings back memories of days spent down the shore, please consider picking up some of these New Jersey-made treats. Your generosity will speak volumes to our friends at Autism Speaks!
Sweet Nothings, located at 26 Beechwood Road in Summit, is a delightfully sweet shop that specializes in an amazing array of carefully curated chocolates, truffles, candies and confections – you'll feel like the kid in the proverbial candy store! Along with the delicious treats, Sweet Nothings features a variety of fun gift items, custom baskets, party and event favors and corporate gifting. Read more about Sweet Nothings, open Monday – Saturday from 10-5:30, in our latest edition of "In The Know," where you'll find a 15% off coupon for your next purchase. For more information, email [email protected] or call 908-522-0888, or follow them on facebook, instagram and twitter.
And for a taste test of Sue Adler's Seaside Salt Water Taffy, visit one of our open houses this weekend, May 20-21, where samples will be available. For a complete list visit The Sue Adler Team Open House Page or give us a call at 973-936-9129!