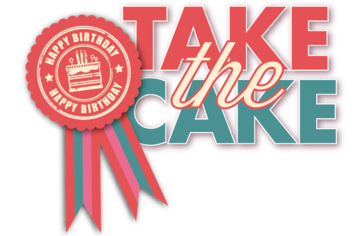 We've all seen the joy on children's faces as they celebrate their birthdays – the laughter and smiles as well wishers all around them sing Happy Birthday and they get to blow out the candles on their cake, surrounded by friends and family. It's one of the sweetest sights! Unfortunately, many families in our community, due to economic strain or family crisis – are unable to host momentous birthday parties for their children or provide a celebration of other important milestones in their lives. This is where Take the Cake, well, actually takes the cake, as far as charitable organizations are concerned. The team at Take the Cake realizes that a birthday party may not be a critical need like food, housing or medical care, but it can have a unique place in a child's life. They are committed to the idea that every child deserves a special day, and they are just the team to make it happen!
Here are 5 things that you should know about Take the Cake and what they do:
Take the Cake is a non-profit organization located in Maplewood/South Orange, New Jersey, which serves Essex and Union counties and was founded in 2014 by Janine Territo and Laura Himmelein.
Take the Cake's goal is to provide fun, special and customized parties to families who couldn't otherwise celebrate their children's birthdays. Each party, like each child, is totally different – featuring the birthday boy or girl's favorite colors, foods, music, sports teams, movie and TV characters, activities, etc.
Our birthday boys and girls are nominated by their teachers, guidance counselors, day care providers, social workers, etc. and know that they are receiving a party because someone who knows them thinks they're extra special.
Take the Cake parties include invitations, cake (of course!), pizza, decorations, activities, crafts, goody bags and, after the party, a commemorative photo album. And so many smiles! Check it out! https://vimeo.com/188430205
Take the Cake believes that birthday parties are not just for the guests of honor, but also for the grown ups who love them. Birthday parties are a chance for the families and guardians to come together to celebrate their children and how they are growing and developing – and their own hard work in facilitating positive growth.
There are so many amazing non-profit organizations serving the members of our communities along the MidTown Direct Train Lines. It is an honor for The Sue Adler Team to feature so many of these organizations through our 100th Home Sale Charity Program. We're humbled by the work that they do and we are proud to feature each one by providing more in-depth information about them and how they serve. The 2017 Sue Adler Team 100th Home Sale Charity Program is up and running and first round voting is well under way! We invite you to learn more about how our Team will give away $20,000 across 6 local charities upon the close of our 100th home sale of the year, and how YOU can decide which charity moves on to the final round of voting. Visit www.sueadler.com/100home to vote daily for your charity of choice, and the top 6 vote-getters will move on to the final round. To learn more about Take the Cake and the amazing work that they do, please visit www. http://www.take-the-cake.org/.