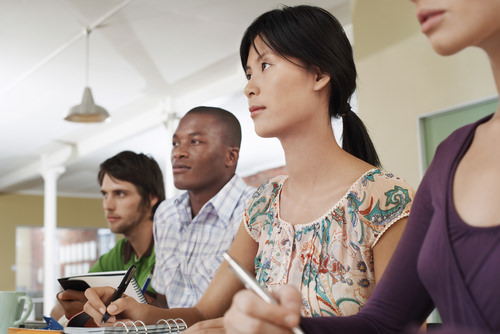 The Adult School of the Chathams, Madison and Florham Park was founded in 1937 and continues to provide lifelong learning processes to everyone in the community.  It was one of the first independent, nonprofit, community educational organizations founded in New Jersey and receives no government funding.  There are no residence requirements to be a student, and the school welcomes students of any race, nationality and ethnic origin.
Mission of the Adult School
The Adult School of the Chathams, Madison, and Florham Park strives to provide affordable learning programs that are useful and fun.  They provide courses in a wide variety of subjects such as language, technology, arts, and hobbies.  They employ highly qualified teachers who help guide students in the adventure of learning!
Informal classes are open to anyone who would like to learn new skills, broaden their horizons and further their education.  Each year over 4,000 students take advantage of the programs offered at the Adult School.
Courses Offered at the Adult School
The Adult School offers a wide range of classes for all types of students.  Courses are offered in the following categories:
Accounting and Finance
Business
College Readiness
Computer Applications
Design and Composition
Fun and Fitness
Health Care and Medical
Home and Garden
Interactive Lectures
Language and Arts
Law and Legal
Music and Dance
Personal Development
Teaching and Education
Technology
Writing and Publishing
Planning for the Fall Semester is underway, and the new course catalog will be available in Mid August.  Registering for classes is easy and can be done online, over the phone, via the mail, or in person at the school.
The Adult School also offers a wide range of interactive classes that can be taken over the Internet.  These courses are affordable, fun, fast, and convenient.  Please visit their website to explore the online course options.
The Adult School Receives Grants
The Adult School was recently awarded two grants that will allow the school to expand its offerings to the community.  The Investors Savings Foundation has provided financial support for a free ESL (English as a Second Language) course for people whose native language is not English.  In addition, the school received a grant from the Hyde Watson Foundation to establish an up-to-date computer center at the Madison Civic Center.  The school will now be able to offer computer training programs to community organizations such as Dress for Success and many others.  Classes will be offered days, evenings and weekends.
More Information about The Adult School of the Chathams, Madison and Florham Park
The office for the Adult School is located at the Madison Civic Center, 28 Walnut Street, Madison, New Jersey, 07940.  Enter through the glass doors and go upstairs.  Office hours are Monday through Friday, 9am to 1pm.  To contact the Adult School, please telephone, fax, email or visit their website: