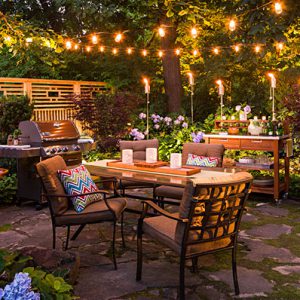 Once upon a time, the average American backyard was furnished with webbed back aluminum lawn chairs, plastic tables, ornamental pink flamingos and improvised volleyball nets. It was the children's play area, the dog's rest room and the place you'd go to barbecue hamburgers. Today, a backyard is more akin to an oasis – a place where you can meditate or entertain in style and comfort. For many homeowners, it's an extension of their indoor living space. Planning your backyard oasis may take time and cost money, but it's more economical than increasing the square footage of your home and less disruptive.
Here are ten of the hottest backyard trends for this summer:
First and foremost, you need to bring all the comforts of your family room to the outdoors with functional and comfortable outdoor seating and table space. Mixing materials is no longer taboo. It's okay to combine metal with wood or wicker. Or better yet, try copper or metallic for a hot summer look. In 2018, anything goes!
Large dining tables are on trend this summer. Look for large squares or rectangles that will seat all of your family and friends. No more kids table at the family gathering.
Grays and greens are always designer favorites but vibrant color palettes are on point for 2018. Many designers are using textiles and fabrics that are similar to what's in your living and family room. Mix bright pillows with geo-friendly patterns to create a bold and striking effect.
A hammock or an outdoor day bed is a must. Add some pillows and a colorful throw, then lay back and relax!
Create a second kitchen. Whether you have a stand alone grill or a built-in outdoor kitchen, the charm in alfresco dining is always delightful. Popping up this summer are pizza ovens, outdoor bars and charcoal barbeque grills for smoking. Allocate an area for an edible garden to bring healthy organic eating to the table.
Create zones in your yard: cooking, lounging, bar and kid areas. Think about transitioning and seamless flow from your home to your backyard. Fashionable flooring is a great way to create movement from one area to another. Wood grained floor tiles, sealed painted concrete and area rugs are in vogue this summer.
Assign an area to express your creativity. Zen gardens are all the rage featuring a careful arrangement of rocks, water features, moss, trees and bushes. The trickling sound of water will give your backyard the relaxing ambiance everyone will envy. Living walls are also in. Bring some life to a boring wall with a vertical garden.
Consider softer more ambient lighting. Bring whimsy to your backyard with solar lanterns, warm candles, globe or string lights. Focus on the dining and cooking areas where you need the most light.
If your budget allows, create a covered living area by building a pergola or set your kitchen or living area under an overhang. Ceiling fans provide a nice breeze on those hot summer days. Consider installing a TV for outdoor entertainment.
Families want the campfire experience to not only cozy up to on a chilly evening but also to construct the perfect s'mores. Designers are featuring custom fire pits that are more angular or square to extend the day, season or night.