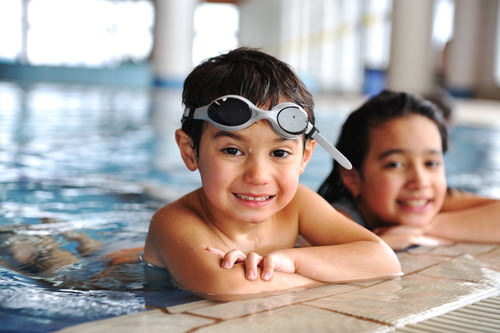 Summit and its surrounding communities are a richer place thanks to the services of The Connection for Women and Families, a non-profit organization that provides an array of activities and programs open to everyone. It is located on 79 Maple Street in Summit, NJ. It offers social, recreational, fitness and educational enrichment programs that can meet the needs of all age groups in the community.
Serving approximately 6,000 people a year, The Connection is well known for its outstanding fitness, child care, aquatics and recreation programs. Classes are available for all ages and are filled with boys and girls as young as six months to senior citizens in their nineties.
The organization has a rich tradition of providing a variety of community-oriented programs. Specific programs include special needs swimming, English as a Second Language (ESL), recreational activities for children and adults, after school enrichment, The Girl Project which empowers girls 9 and up, cardiopulmonary rehabilitation, Pathways, and a program for women with breast and gynecological cancers.  There is also a Summer Camp Program.
For membership dues and facility fees, visit theconnectiononline.org/ and be sure to check out the "Total Facility" membership package. It includes unlimited use of group fitness and dance classes, lap swim and water exercise, and the fitness center.
Hours: Monday – Friday, 5:30 a.m. – 10 p.m.; Saturday & Sunday, 7 a.m. – 5 p.m.
Handicap Accessible: Street level entrance.
Parking: free lot or metered, on-street parking.
The Connection also holds open gym/swim for non-members and members. Call 908-273-4242 to verify schedules as some activities are subject to change.
DROP IN AND PLAY:  6 months to 5 years. Playtime in the big gym. Space is limited. Must be accompanied by an adult. Lots of soft gym padded equipment, little tykes vehicles and hula hoops. $5 daily pass available at the front desk.
RECREATIONAL SWIM:  Enjoy family time in the pool. Children under the age of 10 must be accompanied by a parent. Noodles, balls and other toys available. Free for Total Facility members or $15 family pass for non-members.
JUMP IN AND SWIM:  Infants to 5 years. Playtime in the pool. Must be accompanied by an adult. Fun with music, toys, balls and more. $5 daily pass.
There are also other indoor play areas throughout the community. Click here to see a map of indoor playgrounds, children museums, Chuck E. Cheeses and other recommendations on one page. Check it out, and feel free to comment with other play areas if you don't see them listed.
The Connection serves the areas of Essex, Morris and Union Counties including the communities of Summit, Long Hill Township, Mountainside, New Providence, Berkeley Heights, Chatham, Maplewood, South Orange, Millburn and Short Hills and Springfield.
Everyone is made to feel welcome at The Connection.