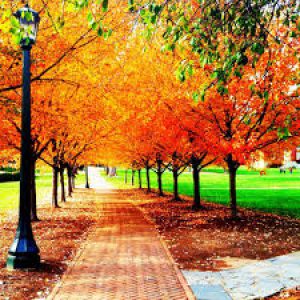 On Saturday, September 22, the Northern and Southern Hemispheres will experience an equal amount of daylight. For those of us in the north, the event is known as the Autumnal Equinox and marks the official beginning of the fall season. From here on out, the air will slowly get cooler and the leaves will gradually change color. The days also get shorter, so short that eventually you feel as though if you blink, you may miss seeing the sun.
The author Deborah Blake reminds us that the Autumnal Equinox is one of the two days in the entire year when daytime and nighttime are roughly equal in length, "making it a great time to do magical work for balance in your own life." For most of us, the balance we seek is between work and home.  With that in mind, here are five ways to celebrate autumn's arrival and create balance in your life.
Visit a Local Orchard and Corn Maze
It's the perfect time for apple and pumpkin picking.  Venture to nearby Riamede, Demarest, Wightmans or Alsteade Farms and pick some delicious New Jersey apples and pumpkin, take a hayride and get lost in a corn maze.
Add Fall Décor to your Home
There are so many fun ways to decorate for fall using mums, pumpkins and gourds. And as daylight is dwindling, bring more light into your house with pumpkin and clove scented candles. Have fun at your local nursery Saturday!
Host a Fall Equinox Party
Invite your friends over to celebrate the coming of fall with loved ones. No matter where you are in the world, the sun will rise due east and set due west Saturday. Get out youMoscow Mule mugs and mix up some apple caramel mules and lay out a caramel apple buffet for the kiddos while your waiting for the sunset.
Foliage Hike
The weather this weekend looks beautiful, take a hike at Wyanokie High Point which has 360° views of the surrounding area, including Manhattan or climb the Appalachian Trail at High Point State Park to the highest elevation in New Jersey, climb an obelisk, enjoy vast views of New Jersey, Pennsylvania and New York.
Football Game
Nothing says fall more than a tailgate and football game. On Saturday afternoon, take a road trip to East Brunswick and watch the Buffalo Bulls take on Rutger's Scarlet Knights.