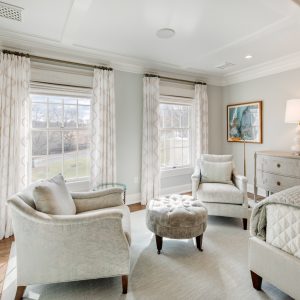 You've finally found your dream house!  The contract is signed and the closing date is set. As you prepare for the big move, your excitement turns to panic as you realize the task that lies ahead. You just bought a bunch of bare walls and empty rooms. Maybe you have furnishings that will fit perfectly and look great in your new home; maybe you'll want to buy all new stuff. Whatever you decide, there is one thing that will likely require your attention before or shortly after you close – the window treatments.
Window treatments can be a big investment. While you don't want to necessarily embrace the latest fad, you still want your house to look fresh and updated. Luckily, window treatment trends don't tend to ebb and flow too much. However, there were a few design changes over the past year that may just have some staying power, including a shift back to light wood tones, warm beiges, browns and lots of blues.  There was also a move towards tranquil and more serene colors as evident by Pantone's choice of Classic Blue for 2020 Color of the Year.
Before starting out, you need to think about what you want from your window treatments. Is it privacy you seek or do you only care about aesthetics? What about light control – do you prefer brighter rooms or darker rooms? How about a combination of all the above?
Once you know the purpose, the next step is to narrow the selection. To help with this, here's a brief description of the different types of window treatments available in the market today:
Honeycomb and Cellular Shades
Honeycomb and cellular shades provide insulating properties that keep the heat out during the summer and keep it in during the winter. In addition to providing insulation, some are available with light filtering and black out options. These shades offer a stylish option, especially when used in combination with other modern design elements and can contribute to a clean, minimalistic style.
Relaxed Roman Shades
If you are looking for a classic look, try a relaxed fabric Roman shade.  Like the cellular shade, Roman shades are adjustable and can block out the sun, but they are different because they use fabric and elegant folds. You can elevate the look of a room, with a classic or bold design depending on your taste. There are also sheer options to let more light through, as well as thick fabrics that can block almost all outside light.
Flat Roman Shades
Similar to the relaxed Roman shade, the flat style Roman shade can be used for a simple and clean look. This style is a great way to showcase beautiful textures and patterns. Bamboo and woven woods provide a soft natural look and are also energy efficient and environmentally friendly.
Roller Shades
Roller shades are a great modern look and come in many fabrics. They also allow you to control the natural light, but not block it completely.If you want your room to burst with sunlight, sheer shades may be your choice.
Solar Shades
Solar shades are similar to cellular shades but are designed to block UV rays and glare, which makes them great for an office space.
Functional & Stationary Panels
Fabric drapes can be a stunning choice for any room. For a more formal décor, look towards heavier fabrics like velvet and heavy silks. If you prefer something more casual, consider going with linen. Cotton and cotton blends work well in any room and can add a clean crisp look.  Sheer and semi-translucent fabrics are a great way to add a warm ambiance by allowing some sunlight to enter. If you are looking for a more tailored and classic style or if you will be frequently opening and closing, then consider letting the drapes just touch the floor. Be warned though — panels that extend or pool onto the floor tend to be more dressier and romantic.
Plantation Shutters
Plantation shutters are timeless option. While they may cost a little more, they also offer a custom look similar to rich millwork. Plantation shutters also provide superior privacy in addition to helping insulate your home.
Wood Blinds
If you're seeking cozy, then wood blinds may be for you. Available in over 60 stains, they add warmth and a finished look to any window. In addition, wood blinds also let you control the amount of sunlight that enters a room by simply adjusting the slats. Faux woods are an affordable option and are both moisture and heat resistant.
Happy shopping!