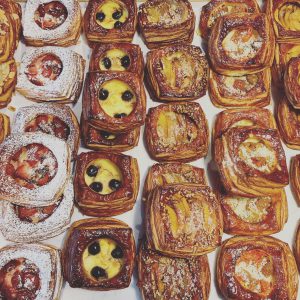 If you've visited Maplewood lately and your mouth started watering uncontrollably, don't worry. You likely just had a subconscious reaction to the smell of freshly baked bread that's been wafting through the air following the opening of The Bread Stand earlier this year.
Located near downtown Maplewood, slightly off the beaten path at 419 Boyden Avenue (at the corner of Jacoby Street) The Bread Stand has garnered rave reviews since opening last February. Recently voted one of the top 23 restaurants you must eat at this fall by NJ.com, the owners have a strong pedigree since they also happen to be the same folks who own one of the areas most beloved restaurants, Arturo's Osteria and Pizzeria.
Since opening, this bakery and cafe, which is open seven days a week, has become the go-to place for freshly baked breads, cookies, cakes, croissants and other pastries as well as for daily breakfast and lunch specials. All foods are prepared fresh daily using ingredients that are sourced locally from New Jersey artisans and farmers. In addition, the cafe menu is seasonal and varies based on the bounty of each new season.
Not sure about visiting yet? Imagine yourself stopping by for a mid-morning snack of just-baked focaccia bread with a mug of oat milk cappuccino or glass of freshly made Kombucha. Perhaps you wait for lunch and order a crusty yet soft baguette with avocado, Vermont Grafton cheddar with garlic aioli and arugula or smoked salmon with house herbed goat cheese and shaved english cucumbers. While it's your choice to eat in or carry out, we recommend you meet some friends, grab a table and have fun hanging out while enjoying delicious food.
By the way, during the month of October, The Bread Stand will donate $1 to the Susan G. Komen Foundation for every sandwich ordered.