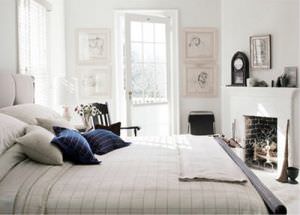 While the thought of walking potential buyers through your bedroom may be a bit uncomfortable, there is no way to work around it. By putting a few simple tips to good use, you can help make the process less uncomfortable for you while also making your home more appealing to potential buyers.
Take Your Personal Items with You
For most homeowners, the bedroom is the area that contains their most personal and intimate items. Even if some of these items are hidden away in drawers or in the closet, the thought of having strangers within reach of them can be a bit unnerving. To help make the process more comfortable to you while also getting your home better prepared for the market, you should remove these items from your bedroom. Remember, the process of staging your home applies to all of your rooms, not just the living room. As such, the same rules apply – you need to depersonalize your bedroom so that potential buyers can envision themselves enjoying this important part of the house. Just as with the living room, this will likely require painting the walls, removing personal items and reducing the amount of furniture in the room making it look open and airy.
If you aren't sure what to do with all of the items that you remove from your bedroom and other rooms, renting a storage unit may be a good idea. The last thing you want is to pack your garage, basement or other space full of boxes and other packaged items. After all, these rooms are also an important part of getting your home sold and we will discuss more about how to properly prepare them for sale later.
Get the Closet Organized
For many potential buyers, the closet is the most important part of the bedroom. After all, none of us can have enough closet space. Therefore, you can count on having them take a look in your closet when they come to see your house. This is just one more reason why you should remove personal items and unnecessary clutter from your closet as well. One way to ensure an organized closet is by installing an organizational system in your closet if one is not there already. Easy-to-install organizational systems can be purchased from any home improvement store at a very reasonable price. Yet, the impact these systems have on potential buyers is tremendous.
While your goal is to depersonalize your bedroom in such a way that potential buyers can see someone other than you living in the home, it is also important to add those "homey" touches that will make the room feel warm and inviting. A bunch of fresh flowers on the bedside table or small touches such as adding duvets, extra pillows and shams to your bed will go a long way toward helping you get your home sold. Even better, these are items that you can pack up and take with your later.
We all have busy lives and the one thing we look forward to at the end of the day is retreating to the comforts of our bedroom to read a good book or just kick back and relax.  Taking these extra steps gives buyers the feeling of a place where they can have a restful night in the sanctuary of their bedroom.