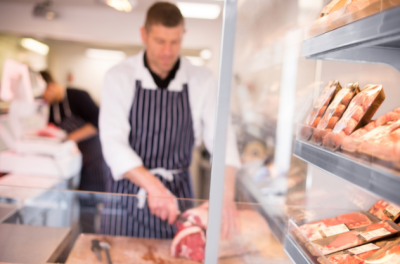 One of the key components of this festive holiday feast is the turkey, and nothing beats the quality, flavor, and sense of community you can experience by purchasing your Thanksgiving turkey from your local business. You'll be sure to discover a range of choices that allow you to celebrate Thanksgiving with a turkey- that's not only flavorful-but meaningful.
So, if you're looking to impress your family and friends with a high-quality, farm-fresh, and memorable turkey dinner, we've done some research! We've compiled some of the best local butchers near you, to help make this Thanksgiving even more special (and delicious)!
🦃 M&M Perrotti's|77 South Maple Avenue, Basking Ridge
Since 1967 the Perotti family has been impressing locals with their family recipes and expertise! They also offer prepared meals, catering, and delicious side dishes!
⏱️ Monday-Friday: 9am-6pm / Saturdays: 8am-4pm
🦃 Violante & Son |452 Pompton Avenue, Cedar Grove
Originating in Naples Italy, the Violante family has their roots in quality meats. For over 40 years they've been serving the local community with a smorgasbord of high caliber products and customer service. They offer a full holiday menu, as well, leaving their customers more time to spend with their family and enjoying the delicious feast!
⏱️ Tuesday-Friday: 8:30am-6pm / Saturdays: 8am-3pm / Closed Sundays & Mondays
🦃 The Butcher Block|209 Centennial Avenue, Cranford
With 50 years of experience in butchering and customer service, it's no surprise that the owners' of this establishment have kept it in the family! Offering a wide variety of USDA certified prime meat and poultry products, they deliver in quality and satisfaction.
⏱️ Monday-Friday: 9am-5pm / Saturdays: 9am-3pm
🦃 Green Village Packing Co. |86 Britten Road, Green Village
For more than 60 years, this family-owned and operated establishment is more than your average butcher shop. It is one of the few abattoirs that retails to the public, ensuring that the locally raised protein remains available to the community!
⏱️ Monday-Wednesday: 8am-3pm / Thursdays & Fridays: 8am-5pm / Saturdays: 8am-3pm / Closed Sundays
🦃 Barth's Market|41 South Street, New Providence
For 3 generations, Barth's Market has been a staple in the community, offering the same care and quality of their founder, Otto Barth. Barth's Market provides everything from fresh, whole turkeys, to delectable sides that are so good that they give the main dish a run for its money!
⏱️ Monday-Friday: 8am-6pm / Saturday & Sunday: 8am-5pm
🦃 Baker Street Market |96 Baker Street, Maplewood
This highly curated gourmet grocery and homewares shop sources wholesome specialty foods both locally and globally. This Thanksgiving, offer your guests a unique experience, featuring their selection of Griggstown Turkey, deserts, mashed potatoes, stuffing, gravy, and much much more! Pre-order now, or risk missing the fun and ease of knowing your Thanksgiving is taken care of!
⏱️ Monday-Saturday: 11am-5pm / Sundays: 11am-4pm
🦃 N & K Prime Marketplace |1899 Springfield Avenue, Maplewood
Blending the finest attributes of their Polish and American backgrounds, Owners' Teddy and Ariusz employ both traditional and contemporary recipes and culinary methods to craft meats and poultry that keep customers flocking to their shop! With their expert staff, no request is too much to ask for this willing and able establishment!
⏱️ Monday-Friday: 9am-6pm / Saturdays: 9am-4pm / Closed Sundays
🦃 John's Meat Market |389 Park Avenue, Scotch Plains
Voted "Best New Jersey Butcher" by New Jersey Monthly 4 years in a row, it's no wonder why locals flock to this family owned business for their meat and poultry needs! With a huge certified organic product selection, this shop offers quality and quantity!
⏱️ Tuesday-Saturday: 9am-5pm / Closed Sundays & Mondays 
🦃 The Meat House|321 Springfield Avenue, Summit
Established in 2013, owners of The Meat House offer expert customer service, premium and quality meats, and the promise of exceptional standards. They strive to create an experience that the community will continue to cherish, and are strong believers in locally gathered goods!
⏱️ Tuesday-Sunday: 9am-6pm / Closed on Mondays
Meat shops and markets are renowned for their expertise in sourcing and preparing meat, making them an ideal destination for your Thanksgiving turkey. These experts can help you choose the right turkey for your needs, and help you cut down on time in the kitchen! Offering insightful tips on cooking methods, ingredients, and gathering the right amount for your gathering are just some of the reasons we love to visit these local businesses!