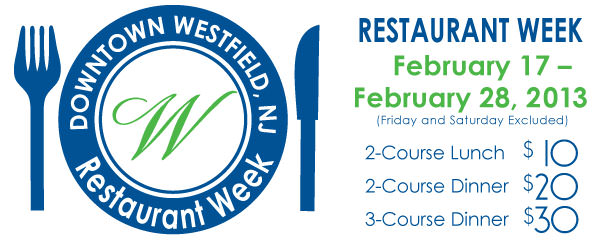 Need an evening out or simply a break from the humdrum weekly cooking routine?  Are you a foodie craving a new cuisine or meal at a favorite haunt?  Maybe you skipped dinner out on Valentine's Day in order to avoid the crowds and an overpriced meal.  One of the area's best Restaurant Weeks begins Sunday, February 17 and goes through February 28 (excluding Friday and Saturday) in downtown Westfield.
Downtown Westfield's most popular restaurants will participate in this two week long celebration when you can enjoy lunch or dinner at one of your favorite spots.  This is also a good time to reach out of your comfort zone and try a new fare or even two – your taste buds will thank you.
Prices have been fixed to include any two-course lunch for $10, any two-course dinner for $20 or three-course dinner for $30.  Beverages, tax and gratuities are not included in the price-fixed menus.
Mark your calendars and take advantage of this chance to sample one of the great Westfield restaurants.  Restaurants are accepting reservations, so call now to book and assure you get a table.  And to make the deal even sweeter, The Downtown Westfield Corporation, as part of Restaurant Week is holding a random drawing to win one of four $25 parking cards.  The cards can be used in any lot or metered on-street spot.  Now that's almost better than dessert.  You must enter online by going to http://events.constantcontact.com/register/event?llr=hkdmqgcab&oeidk=a07e70lprtp766486d6.
Good luck and good eating!
For a list of participating restaurants, click here.
And look out for more information on another Westfield extravaganza.  On Sunday, May 5 head to Westfield when its downtown streets are transformed into a marketplace of over 300 vendors with festival foods, entertainment and a KidsZone for the Westfield Spring Fling Street Fair.  It marks the beginning of spring.