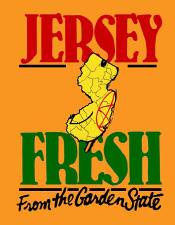 When I think of June, my senses come alive.  The smell of ocean water, the sound of buzzing bees and the taste of Jersey fresh produce.  Nowadays you don't have to go to the crowded, stuffy supermarket to buy fruit and vegetables that are generally produced and shipped from remote places.  The pick of the crop is available — June through end of October or early November — at your local farmer's market.  Each week, Jersey famers and vendors gather at many of our Midtown Direct communities with their Jersey fresh produce, herbs, breads, jams and honey, flowers, meats and pickled foods.  Some even have entertainment.
You'll walk away with all the ingredients you'll need to prepare a healthy, organic meal that will delight even the pickiest eaters in the family.  Add a bunch of Jersey fresh flowers to your table and invite friends and neighbors for a BBQ or summer lunch.  You'll be the talk of the town.
What's more, it's a really fun outing.  There's something for everyone — kids love a pickle on a stick and adults can rummage the assorted merchants.  And the best part is you are supporting our local farmers and getting the best flavorful and fresh produce.
So this summer, avoid the grocery lines and visit one of our towns' farmer's markets.  Each offers something a little unique.  Eat well and stay healthy!  Here's a list….
The Farmer's Market in Downtown Millburn
Fridays (note new day) June 8 – October 19 from 8:00 am to 3:00 pm in the Essex Street Municipal Lot behind Town Hall
Sundays May 13 – November 18 from 8:00 am to 1:30 pm at 22 Deforest Avenue
Mondays June – October from 2:00 pm to 7:00 pm on Springfield Avenue at Indiana Street
 Main Street South Orange Farmers Market
Wednesdays late June – October from 2:00 pm – 7:00 pm in the Sloan Street Lot across from NJ Transit Train Station
Thursday afternoons June 14 – August 16 on Waverly Place
Thursday afternoons August 23 – October 25 in front of the Museum of Early Trade and Crafts on Green Village Road
Chatham Borough Farmers Market
Saturdays June 30 – November 17 from 8:00 am to 1:00 pm at the Chatham Train Station
Thursdays late June – October from 12 noon to 6:00 pm in the parking lot across from Firehouse Commons, 45 South Livingston Avenue
Saturdays early July – November from 8:00 am to 2:00 pm in the South Avenue parking lot near the NJ Transit Train Station
Wednesdays June 13 – October 31 from 12:00 noon to 6:00 pm in the front parking lot of the New Providence Municipal Center on the corner of Academy Street and Elkwood Avenue