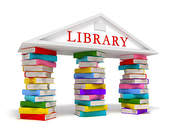 With the internet at our fingertips, we can access all kinds of information from our personal computers and even our phones.  Because of this, we might be less inclined to head to our local public library to research and gather information.  But today, libraries are much, much more than a source for reference materials.  And our Midtown Direct community libraries offer a wealth of resources and programs that definitely make the trip worthwhile.
For example, libraries offer amazing children's programming such as summer reading clubs, Story time for smaller children, LEGO Clubs and weekend chess clubs.  And there's generally a separate children's room for the kids to explore.  Adults can find lecture series, guest speakers on a variety of topics, writing workshops, book clubs, job seeker seminars and even DVD and book-on-tape rentals.
There's definitely something to be said about the smell and feel of books and nothing brings that closer to home than a visit to the library.  Introducing your children early to this resource can instill a love of reading and a life-long appreciation of books and learning.  And now as homework starts to pile up with our children back-to-school, the library offers a great place to tackle those research assignments in a quiet and peaceful environment.  Also, check your libraries online resources for homework help & tips.
A great place to start is your local library's website.  Check out their calendars and special events and head on over to learn something new or a little more about a subject you already enjoy.  The websites also offer interesting links, educational resources and even eBook readers.  Here's a listing of our local libraries — don't wait — take advantage of all your library has to offer.
Don't hesitate to contact the librarians who are also very eager to lend a hand if you're having trouble navigating the site or have a specific question.