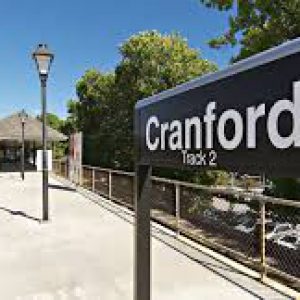 Once a summer resort for Wall Street and corporate headmen, Cranford is now home to more than 20,000 residents.  This charming town, which the New York Times recently labeled as "a place where no one wants to leave. And those that do often find themselves angling to come back" is situated along the Rahway River and offers a small town feel coupled with all the amenities of a larger city.  Distinctive local businesses, historic buildings, rich culture and social activities pull residents together and create a special sense of community not found in many towns. No where is this more evident than during Cranford's annual Porchfest, when front porches turn into stages for intimate musical acts, or during other town-sponsored events such as the Scarecrow Stroll or the yearly Rubber Ducky Race. And in a few weeks, when snow blankets the roofs of Cranford's impressive Victorians (one built by the founder of American Landscape Architecture, Fredrick Olmsted), neighbors will stop by to see Cranford resident's Robert Schott's house to view his massive snow sculpture.
Community spirit is definitely alive and well in Cranford. On Friday nights during the fall, Cranford High School's stands are overflowing with royal blue and gold cheering on the football team. But the community supports and rallies around all of its athletic teams, especially when playing rival Westfield Blue Devils. Most residents are involved in one or more of the numerous community organizations that the town offers, among them three garden clubs, a historical society, a women's club and a nature conservancy.
In October, NJ.com named Cranford's downtown as one of the top five in New Jersey. The lively and vibrant town center is focused around the historic Cranford Hotel,which was built in 1893. Featuring coffee shops, restaurants and various local businesses, visitors will enjoy strolling around the downtown area and along the banks of the Rahway River that runs through town. The Toute Heure and Pairings Palate + Plate restaurants are must visits for foodies and Ye Olde Rathskeller, The Thirsty Turtle, or Riverside Bar are great happy hour meeting spots for thirsty commuters ending their evening commute at the Cranford Train Station, which is part of the NJ Transit Raritan Valley Line and offers easy access to Midtown Manhattan.
Nohamegan Park, home of countless festivals, events, company and family picnics, connects many of Cranford's 415 acres of parkland with the town center. This diamond in the rough is known for its playground, grills, scenery and winding bike and walking paths for residents and visitors alike. The Rahway River cuts through the park and is stocked with trout making the fishing derby a fun outing for the kids. For those feeling a little adventurous, the Cranford Canoe Club rents canoes and kayaks for navigating the local waterways. 
Thinking of relocating to Cranford? The housing is eclectic, including gorgeous Victorians, 1950s ranches, split-levels, Cape Cods, and a recently built luxury apartment building in the town's center just beside the commuter train station. Come to our open house this weekend and take a look at our 5 bedroom listing in Cranford.