View Sue Adler Team SALES in a larger map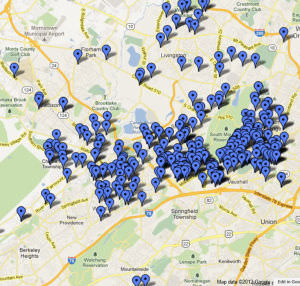 When I relocated from PA to Short Hills NJ in 2002 I learned first hand what it was like to familiarize yourself with an entirely new town, city and region.  There is so much to learn, so much to research and so much information to process, even more so if you have children, schools and activities to consider. It can be very intimidating and difficult to know if you are making the right choices.
I've been selling real estate for over 25 years and there is an almost intimate perspective that you gain on a community when you are actually walking in and out of so many homes on a daily basis.  A knowledge and appreciation that the Sue Adler Team just loves to pass on to our clients.  In my 8 years (WOW, time flies) in our amazing Midtown direct towns I have viewed and toured thousands of homes, walked down too many streets to count and  closed over 450 transactions in our Midtown direct communities.  Nothing can top the sense of fulfillment that comes with finding the perfect, home and community for my clients!
When our buyers move here from out of the area, we feel very responsible for them, so we not only help with names of contractors, doctors, etc, but we LOVE to introduce our clients to each other (on facebook and in person) so that they make new friends right away.   Since most of our team's buyers are moving in from out of the area, every year we have a Client Mix & Mingle Party to introduce everyone to each other.
If you are considering a move to our area please let us guide you through the process.  You can start by  viewing our community videos, and town pages (Millburn/Short Hills, Maplewood, South Orange, Livingston, Chatham, Madison,New Providence,Summit, Westfield)
 If you really want to get a true sense of our region then gives us a call and we'll give you the town tours, in person!
Yours to count on,
Sue