Amy Gotsch our team tennis pro, shares the scoop on the fun and competitive local tennis scene. Amy is an avid women's double player, make sure to say hi if you see her out on the courts! Amy can be reached at amy@sueadler.com or 908-285-1538.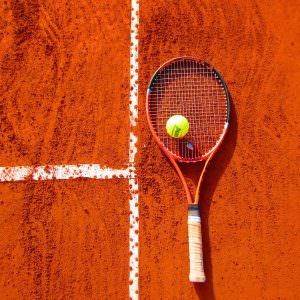 One of my passions is playing Tennis.  I am a late bloomer to the game,  I picked up my first racquet after my 3 children were born and I have been playing ever since. I love the game's continual mental and physical challenges in addition to the socialization aspect.  I found that a fringe benefit of playing tennis is having access to a new diverse group of women that have enriched my circle of friends.
The main impetus for my interest in tennis is that I needed a break from my job as
" mommy"  to 3 kids under the age of 4.   I desperately wanted to branch out of my house and get more involved in stimulating activities.  Tennis proved to be perfect;  it is sport that is welcoming to new players and advanced players alike.  I found my groove in the beginner clinic as I bonded with strangers solely based on the awkwardness of swinging a racquet and hitting the ball anywhere but where the target was placed!
If you are like me and have a hankering to get out and explore new activities, please give the tennis world a try. If you played in your past, dust off your racquet and re-visit the courts. Below, I have detailed tennis options in the area towns for all types of players.
Locally there are numerous facilities geared to all levels of tennis players:  beginners to ex- pros.  There are public and private indoor and outdoor tennis facilities within a 10 mile radius of the midtown direct towns. For less serious players who wants to hone some new skills and play casually, these clubs all have programs, clinics, and round robins suited to your level of play.
The more competitive players can try out for club teams.  The USTA and Garden State are two indoor winter leagues played on hard courts.  The rules for both leagues are similar and require that participants pay fees for team lessons and match play throughout a season that runs from September through April.  Of course, just as the winter season winds down and the grounds thaw out,  the Spring outdoor tennis league play commences!
In the Spring, the private clubs have a spring league for outdoor play on a different surface called Har tru.   Again, the rules of play are similar to the indoor leagues and many of my winter team mates play on their Spring club team as well. It is not uncommon to find yourself playing on the opposite side of the court from your regular indoor tennis partner . Suddenly, you have to re-strategize and change up your game to surprise your opponent that knows all your strengths and weaknesses.  League play is   fun healthy competition!   For non-team members, the outdoor clubs have a regular offering of clinics and social play throughout the season. Many of these clubs also offer a paddle program for a fun way to keep active outside during the winter months.  Paddle also offers competitive and non-competitive options.
Getting involved in the tennis world  is not only fun and challenging but the friendships created are indispensable!
Below is a list of several clubs in the midtown direct towns:
Short Hills:
Private
Racquets Club- tennis/paddle/pool/clubhouse
Short Hills Club- tennis/paddle/pool/clubhouse
Canoe Brook Country Club- golf plus above
—
Summit:
Private
Summit Tennis Club- tennis only
Beacon Hill Club- tennis/paddle/pool/clubhouse/winter ice hockey
Clearwater Club- tennis/swim/pool
Murray Hill Tennis New Providence- indoor tennis clinics and league play
—
Chatham:
The Strand- indoor tennis clinics and woman's teams
Centercourt- indoor/outdoor tennis – clinics and mens and woman's league has membership options as well as individual clinic fees
Private:
Chatham Fish and Game: tennis/bowling/pool/clubhouse
Minnisink: Tennis and paddle
Noe Pond- pond/tennis/paddle
Fairmount Country Club- golf/tennis/paddle/clubhouse/ pool
Morris County Country club- golf/ tennis/paddle/pool/clubhouse
Brooklake( Florham Park)- indoor tennis
—
Westfield
Westfield Tennis Club- outdoor-tennis only
Westfield Tennis Club- indoor
Mountainside Tennis Club- indoor-tennis and fitness facility
Cranford Tennis Club- indoor
—
Maplewood/ South Orange
Orangelawn Tennis and Pool- outdoor tennis/pool/clubhouse
Maplewood Little Club- outdoor tennis only
Maplewood Country Club- outdoor golf/tennis/pool/clubhouse
All the above have stellar kids and mens programs as well.
Good Luck!