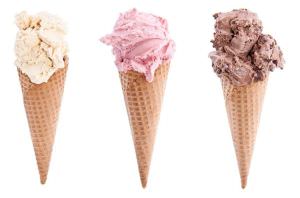 It's summer, which means, it's ice cream season! And what better way to celebrate than to take a trip to the New Providence's own Zita's Ice Cream and Italian Ice! This small, unassuming ice cream shop opened its doors to the neighborhood 15 years ago. Back then Zita's offered just a few flavors and was lucky if it sold six ice cream cakes in a weekend. Today, the business is thriving, churning out dozens of new flavors and selling 80 ice cream cakes on a normal weekend.
To founder and owner Peter Elefante, ice cream is not just a job—it's a passion.
"Even though Zita's is now 15 years old, I'm only at the beginning…I want Zita's to be one of those places that's around for 50 years, where people who have moved away have to stop by to get their ice cream fix whenever they are nearby," Elefante said.
What sets Zita's apart from the hoard of ice cream shops in New Jersey is its owner's passion for the product, which extends to its production. All of Zita's ice cream is made on the premises, in the small back kitchen. This ice cream is homemade in the truest sense. "And we only use the highest quality of ingredients," says Elefante, "from fresh bananas in our Kong ice cream to fresh strawberries in our Strawberry."
Elefante plans to do more wholesale to restaurants, hotels, and other ice cream stores. To meet this demand, Zita's will have to produce more ice cream, which means they will need more space to make it. Soon, the little shop will undergo a renovation of the back kitchen, to create more room for freezers and production facilities.
For many years, the shop has participated in New Jersey's Ice Cream Festival, winning first place for its smores flavor in 2010. Zita's switches its flavors seasonally – some current options are peach, key lime pie, and chocolate covered strawberry. After a ten year hiatus, the very popular Devil Dog has also returned to the menu. Some new flavors include Ice Cream Cake (the Zita's ice cream cake as a ice cream flavor); Cookie Monster (vanilla ice cream with Nutter Butters, Ores, and chocolate chip cookies); and the Dirty Turtle (caramel turtles, vanilla ice cream, cake crunch, and fudge).
A New Providence native, Elefante is excited that have built a booming business in his hometown. "We pride ourselves in giving back to the community which has given so much to us," Elefante said.