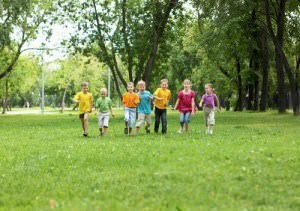 The Summit Department of Community Programs is the primary agency for providing recreational and leisure services to Summit residents. The city is fortunate to have a network of local non-profit organizations that enable residents of all ages to participate in various sports, fitness, family fun, cultural, intellectual and healthy leisure pursuits.
In Summit, there is something for everyone. Together these agencies make the City of Summit a wonderful place to live and work. Click on Community Partners to find out more. Summit has numerous community parks, open space, turf and natural grass playing fields, running tracks, a par 3 nine-hole golf course as well as an amazing family aquatic center.
Things to Do
Summit Municipal Golf Course
189 River Rd Summit, NJ 07901 | Get Directions »
908-277-2932
In 1967, the Summit Municipal Golf Course was constructed on 13 acres of land that was previously a private estate. This award-winning golf course is the gem of the Summit Park system. The original design of Par 3, which consists of nine holes, was completed by well-known golf architect Hal Purdy. Summit made history as the first neighborhood in New Jersey to open a municipality-built golf course.
Numerous golf tournaments are held annually. The Youth Golf Tournament for kids ages 8 thorugh15 is held in late September. The Victor H. Picozzi Senior Golf Tournament is held the first Monday after Labor Day. The Liberty Open is the course championship that starts in May and runs until the end of August. The "Muni" is open early April through November.
Hours: Daily, dawn to dusk from April to November
Membership info: Memberships are available to Summit residents/taxpayers. A limited number of memberships are reserved for Chatham/Chatham Township and Union County residents.
Parking: Free lot
Public/Private: Public
Number of courses: 1
Aggregate number of holes: 9
Par: 3
Facilities: Putting green
Services: Equipment rentals, Group clinics, Kids' classes, Private instruction
Par 3: Yes
Tee settings: Men's, Pro, Women's, Youth
Restrictions: No alcohol, outside food, pets or smoking
Casual attire: Yes
The Community Center
100 Morris Avenue
The Center offers seven acres of parkland with a gymnasium, recreation offices, meeting rooms, soccer/softball/baseball field, a bocce and basketball court.
Summit Family Aquatic Center
100 Ashwood Ave.
The Aquatic Center is set on 11 acres and has a 50 meter pool, a sand volleyball court, two slide towers, leisure pool, bath house, concession stand, picnic grove and basketball courts.
Wilson Park
14 Beekman Terrace
The Park consists of 11 acres and has two lighted paddle tennis courts, baseball/soccer field, basketball court and a playground.
Mabie Playground
30 Summit Avenue
Along with a playground, this two acre space also has two basketball courts.
Soldiers Memorial Field
5 Myrtle Avenue
The Field is comprised of 25 acres of parkland with baseball/softball fields, tennis courts, soccer fields, cinder 1/5 mile track, basketball courts, Cornog Field House and a playground.
Investors Bank Field at Tatlock
26 Butler Parkway
Set on 25 acres of parkland, Investors Bank Field and Upper Tacktlock Field consists of synthetic turf multi-sports fields, grass practice fields, Anderson Field House, a playground and four lighted tennis courts.
Glenside Fields
189 Glenside Avenue
The Fields is comprised of two acres of parkland and has two lighted synthetic turf multi- sports fields. This space is a shared collaboration between the City of Summit and County of Union.
For more information on Summit and other midtown direct communities, please reach out to a member of my team.