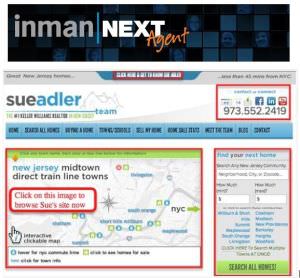 Now there is even more national recognition for Sueadler.com!  Chris Smith from InmanNext interviewed Jim Marks, CEO of  Virtual Results about his "websites that work" and featured my new custom New Jersey real estate site as an example.
When Jim and I discussed how this site was going to be built, we had the Midtown Direct Trainline Town home buyer and seller in mind with each and every page.  Most of our buyers move here from Manhattan, Jersey City,  Hoboken or Brooklyn.  I joke that there is usually a dragger and a dragee out of the city and aside from the house, their priorities are often great schools, direct train for easy commute, and a walkable town.
So….. We built sueadler.com for the buyer relocating to New Jersey who isn't sure yet which town to call home. Our interactive map has commute times to NYC, links to all of the community info including town tour videos with locals discussing the community, and links to all homes for sale in Millburn, Short Hills, Summit, Chatham, Madison, Maplewood, South Orange, Livingston and surrounding New Jersey towns.
Keeping both buyers and sellers in mind, on each of my listings, we pulled in the corresponding community information. For example, on www.sueadler.com/38rollinghill, you will notice a community video of Chatham, the Chatham blog posts, and the Chatham yelp reviews, as well as Chatham school and commuting info.
What I have discovered is that home buyers go to real estate websites and may see a nice house, but they have no idea what the community is like.  We designed this site with the intention of providing the whole package. And our sellers are thrilled to have their New Jersey homes featured in this way, so it's a win for everyone.
A huge thank you to Jim Marks and the Virtual Results Team.  And to Chris Smith for giving sueadler.com national exposure!  Click here to see the article or watch the video.