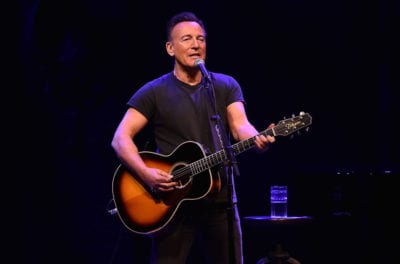 Who doesn't love Bruce? … It's a state law in New Jersey that if you are a resident than you have to be a Bruce Springsteen fan. Well, if it isn't than it should be. Bruce is the Boss! Lucky for us, the Boss is live streaming a special quarantine concert from his home on Wednesday at 10:00am. According to E Street Radio, he will be playing songs and sharing inspirational thoughts about the times we live in. The show will air on E Street Radio.  He also revealed on "Good Morning America" this morning that he will appear in a upcoming broadcast benefit show, "JERSEY 4 JERSEY," on April 22 with Jon Bon Jovi, Tony Bennett, Jon Stewart, Whoopi Goldberg, Charlie Puth, SZA, Saquon Barkley, Danny DeVito, Chelsea Handler and many more. The funds raised from the broadcast event will benefit The New Jersey Pandemic Relief Fund. NJPRF provides aid to workers on the front lines and grants to organizations that service hard-hit communities.
Other musicians are heading online as social distancing puts live concerts on hold. Many artists like Charli XCX, John Legend, and Diplo are turning to Instagram. Miley Cyrus' "Highlighting Heroes" special of her "Bright Minded" livestream series launches this week, honoring those on the frontlines of the COVID-19 pandemic. She will be speaking every day at 11:30 a.m. PST to people from across the country who are making a real impact in their communities and who are inspiring others.  Neil Finn of Crowded House is performing everyday at 3:00pm PST here or here.  And Lisa Loeb goes live at 11:00 a.m. EST every Monday, Wednesday and Friday for a family-friendly color and sing-along session on Facebook.
On April 18th at 8:00pm EST, "One World: Together At Home" curated and collaborated by Lady Gaga with special appearances from musicians around the world, including Alanis Morissette, Andrea Bocelli, Billie Eilish, Billie Joel, Elton John, Lizzo and many more, will broadcast on ABC, NBC, ViacomCBS Networks, iHeartMedia, Amazon Prime Video, Apple, Facebook, Instagram, LiveXLive and YouTube. The broadcast will benefit WHO and local and regional charities that provide food, shelter and healthcare to those that need help most. This Historic broadcast will be hosted by Jimmy Fallon of 'The Tonight Show,' Jimmy Kimmel of 'Jimmy Kimmel Live' and Stephen Colbert of 'The Late Show with Stephen Colbert'.