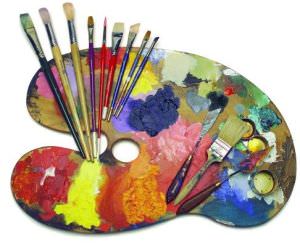 Having a daughter who is an artist, the local art programs were always an important part of our lives. Here are my recommendations:
If you have a young child, and are looking for a low key environment, sign your child up at Gerilyn's Art Studio in Maplewood. They have classes for children, teens and even an open studio for adults. In the summer Geralyn offers art classes and it's a great place for fun ( and messy) birthday parties. Express Yourself Studio is another outlet   for creative expression in Maplewood , for adults and children alike.
If your child is more serious and is looking to build an art portfolio, I highly recommend Renaissance in Learning in Millburn. I can speak from personal experience on this one.  This is where my daughter took her after school private art lessons from 8th through 12th grade. The beauty of this place is that it's where the art kids  go after school and work on whatever project they are working on, whether or not their lesson is that day. It becomes very social for them as well. My daughter and her art friends even called themselves "The Art Posse".  Pat and Nick Navarino, and Pat's daughter Rebecca run the studio. The instructors are extremely talented and the studio is really well run.  If your son or daughter is taking AP Art, these classes are a MUST before and during that process.
The Visual Arts Center of New Jersey in Summit is another place for the more serious art student. They offer classes and workshops for every interest imaginable, for teens, kids and fabulous adult classes. There is also a  gallery offering many wonderful exhibitions. Here's the upcoming schedule: http://www.artcenternj.org/exhibitions/current-exhibitions/
In Madison, Creative Hands Art Studio offers classes for kids and adults and their workshops are very small with no more than 12 students. Their instructors are all professional artists.
Messy Artist in South Orange stands proudly by their "just Plain Fun" motto…. great for the really young ones, as young as 18 months!
And the best place around for art supplies? JERRY'S! in West Orange.
If I'm missing classes that you would like to add, feel free to write them in the comments section.
Yours to count on,
Sue Adler 973-464-9129 #1 Keller Williams Agent in NJ 2005-Present