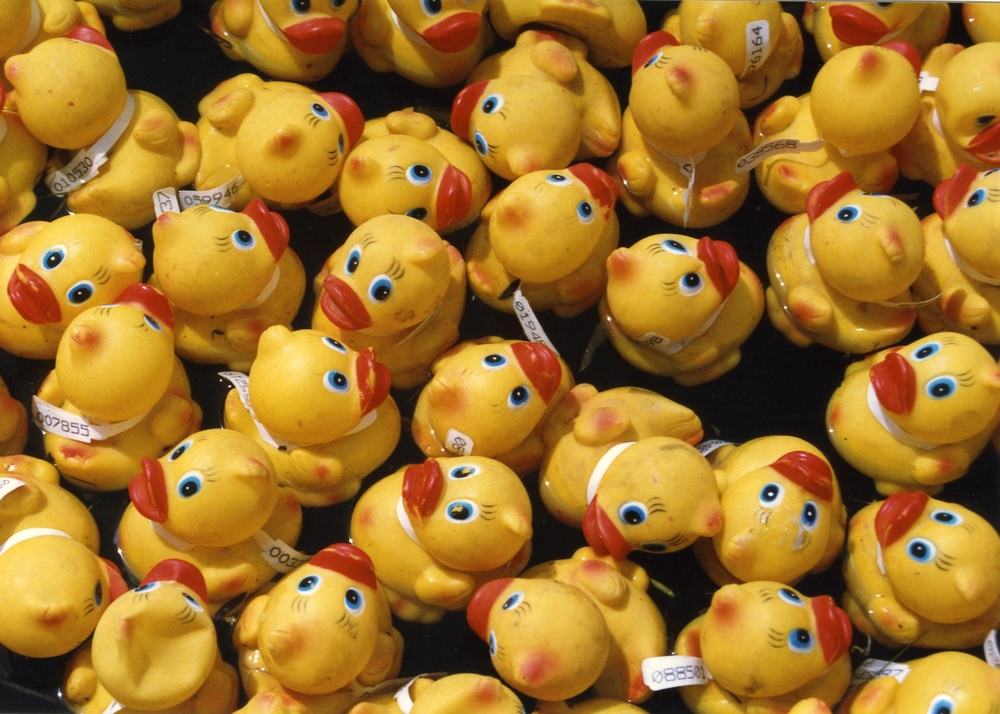 Get quackin'! The 12th Annual Berkeley Heights Rubber Ducky Festival is taking place on Saturday, May 30, from 12 noon to 4 p.m. at the Passaic River Park soccer fields at 151 Springfield Avenue, in Berkeley Heights.
The feature event will again be the Rubber Duck Race when thousands of Rubber Ducks float down the Passaic River in a quest to be the first to the finish line for their respective owners. First place prize is a $250 Berkeley Heights Gift Certificate.
Carnival games will be on site for all to play, and Pete's Place will be in attendance with plenty of delicious food selections. Local businesses and community organizations will also have exhibits at the Festival.
Other exciting happenings during the event are a car show, a Scout-O-Rama, and kids games. Another feature of the Rubber Ducky Festival is DuckFest 2015, a live music festival, which will showcase local bands on May 30, noon-4 p.m., during the Rubber Ducky Festival at Passaic River Park, Berkeley Heights. DuckFest 2015 sound system will be provided by JDV Music and Design and stage donated by Taylor Rental of Berkeley Heights. Entrance is free to the public. The Festival will be held rain or shine, so mark your calendars for a chance to enjoy seeing friends and neighbors coming together as a community.
Adopt ducks for only $5 each for a chance to win fantastic prizes donated by local businesses. Scouts are selling tickets in front of local businesses; a limited number will be available at the Festival.
The first $4,000 raised will go to Governor Livingston High School Senior Scholarships. Other Rotary Club projects include providing Student Dictionaries to every Berkeley Heights 3rd-grader and a Thesaurus for every 6th grader, Medic-Alert for over 200 area solo senior citizens, and helping over 500 local Cub Scouts and Boy Scouts.
This year the premier sponsor is The Connell Company and Primrose School of Berkeley Heights.  Other supporters include Investors Bank, Door Boy, TAPinto.net, Cornerstone Analytics and Taylor Rental. For more information on sponsoring, call Julianne Simmons at (908) 464-0860.
The Rubber Ducky Festival is run by the Rotary Club of Berkeley Heights in cooperation with the Suburban Chamber of Commerce Foundation and the Berkeley Heights Recreation Department.
The Berkeley Heights community is revealing itself as one of the best places to live in Jersey. As of 2010, Berkeley Heights boasted a population of just over 13,000 people. With the population, slowly growing this family-friendly area changed their government from a Township Committee to a traditional Mayor-Council Administration in 2007. Ranked as the 45th best place to live in Money Magazine's 2007 list, this small community popped up to the sixth best place to live in the magazines 2013 Bests Places to Live rankings. Located in Union County, New Jersey this small town is ideal for raising a family. With quiet neighborhoods and recreational activities located a short distance away, this community has an appeal and charm that draws new residents. With the charm and safety of a small town community, Berkeley Heights is perfect for families who want a quiet life but quick access to fun activities and the occasional trip into the big city.
Sorry we are experiencing system issues. Please try again.