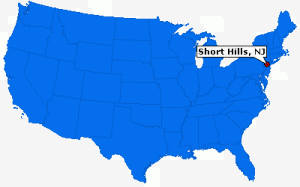 Short Hills seems to have it all – an easy 35 to 40 minute commute on NJ Transit's Midtown Direct Line, top-notch schools, magnificent homes – from historic mansions to newer style ranches – all with lush landscapes and down town Millburn boutique shopping & trendy restaurants.  What more could anyone ask for?  So it was no surprise when I picked up Thursday's New York Times Real Estate section and saw this article right on point.
It's no wonder that home values in this serenely beautiful community have not seen the downturn that other towns have recently experienced.  And to sweeten the deal, interest rates are at historical low numbers.  According to Cathy Haddad, Sales Manager & Mortgage Consultant, at Atlantic Home Loans , rates for conforming loans are as low as 3.75% and 4.5% for a Super Jumbo mortgage.  For additional information, Cathy Haddad can be reached at (848) 203-2272 (cell) or (973) 830-8789.
I am so encouraged by what I have been seeing in the past few weeks.  We are once again experiencing multiple offers on listings and our Millburn and Short Hills open houses are busier than we've seen in 4 years.  It gets our adrenaline pumping again.  People who have been hesitant to make a move, particularly first time home buyers, are finally taking the plunge probably for 2 reasons – more inventory is coming on the market so choices are plentiful in combination with the historically low interest rates.  And more good news for the move up buyer, a family looking for a bigger or upgraded home, prices in the luxury market are way down, making affordability in this category even more reachable.
I am a huge fan of all the NJ Midtown Direct towns, but Short Hills holds a place near and dear for so many reasons – aside from the fact that I live here :-).  First and foremost, the convenience to Manhattan gives residents the best of both worlds.  The hustle & bustle of one of the world's greatest city is within a 40 minute reach while residing in the peaceful and serene beauty of a storybook town.  The Millburn Public School District, a blue ribbon school  district, is another driving force for moving to Short Hills.  The high school has been consistently ranked #1 in the state as well as one of the most academically challenging high schools in both the state and nation.  Millburn/Short Hills has good reason to take pride in such an accomplishment.
Other huge benefits are the wonderful shopping, theater, and restaurants in and around the town.  Shoppers can delight in an afternoon spent at the Short Hills Mall, full of high end, 5th avenue designer shops including Fendi, Chanel, Burberry & Saks Fifth Avenue, but also "normal" mall stores as well.  We have some of the best restaurants in downtown Millburn and surrounding towns like Summit, not to mention the Paper Mill Playhouse, recognized throughout the region and nation for its innovative performances with big-named, red carpet stars.
Outdoor lovers have an array of parks to choose from with activities for the young and old.  Take in some fresh country air in the South Mountain Reservation where joggers, bikers and hikers can explore over 2,000 acres of woodlands and trails and enjoy spectacular views of the Manhattan skyline.  It will take your breath away.
So here's what the market looks like….sales in Short Hills range from smaller homes in the $400,000+ range to fully renovated 6-bedroom estates in the 3-4M range.  Typically today, the median sales price is around $850,000 to $1 million.  And because there is a strong business center and commerce district, the tax base is more reasonable than some of the other surrounding towns.
Tie this all together and what a fantastic place — Short Hills – to call "Home Sweet Home."