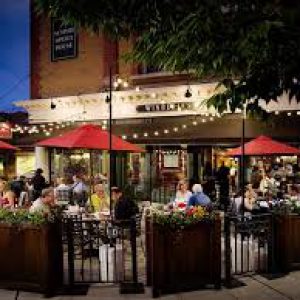 Foodies, delight! Dining out in charming downtown Summit is one of our favorite past times during the warmer months. Al fresco dining, outdoor concerts, mom and pop café's and ice cream shops – all combine to create the perfect evening out.
This week you won't be disappointed with Summit's 10th Annual Restaurant Week. From July 19 – 29, more than 30 restaurants and shops will offer special prix fixe lunch and dinner menus with $25, $35 or $45 price points as well as a variety of food specials.  Also, the popular new "Summit Street Sounds" event, which debuted in June, will return on July 19th to kick off Restaurant Week and feature live music throughout downtown from 5:30 – 8:30 p.m.
Make sure you snap a photo of your favorite dish as Summit Downtown is sponsoring a photo contest where diners will have a chance to win a $100 gift card to a restaurant on their choice. A 'Best in Show' winner will be chosen and the photo with the most combined likes on Facebook and Instagram will also win a $100 restaurant gift card.
Book your table, preview menus and explore curated collections below:
Restaurants offering $25 prix fixe menus: The Committed Pig, Jenny's Japanese Cuisine, Fiorino Ristorante (lunch), La Focaccia (lunch), La Pastaria, Negeen Persian Grill, Pizza Vita, Summit Diner (for two people), and Summit House (until 6 p.m.).
Restaurants offering $35 prix fixe menus: Batavia Café ($35 for two people), The HAT Tavern, and Winberie's Restaurant & Bar.
Restaurants offering $45 prix fixe menus include: Huntley Taverne (dinner) and Roots Steakhouse (dinner).
Restaurants and shops offering specials include: The Office Tavern Grill, Piattino: A Neighborhood Bistro, Ahrre's Coffee Roastery, Brownie Points Bakery, DÚE 360, Edible Arrangements, Fin Raw Bar, Juice Caboose, Marigold's Café, Mexican Spice, Peppercorn Diner, Summit Greek Grill, Summit Thai Cuisine, Tito's Burritos & Wings, Twisted, Village Trattoria of Summit, Zappia's Brick Oven, Zappia's Delicatessen & Caterers, and ZRolls.
Performers and locations for July 19 include: Promenade – David Heffernan, classic rock hits performed on keyboard, Lyric Park – Narrow Escape Duo, smooth jazz on guitar and vocals, Horse Trough – The Covergirls, covering the classic American songbook
For more information on Summit's Photo Contest, specials and entertainers, visit the Summit downtown website,
Bon Appétit!