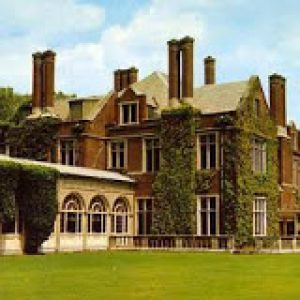 If you have ever dined at Ninety Acres, you may have admired the picturesque setting that is home to the celebrated farm-to-table restaurant. Located in Peapack-Gladstone, Ninety Acres is part of the sprawling 500 acre Natirar estate, whose focal point is a 33,000 square foot Tudor-style mansion that was once the home of heiress Kate Macy Ladd and her husband Walter. More recently, the estate was owned by King Hassan II of Morocco. After the Kings death, his son, King Mohammad IV, sold the estate to Somerset County in 2003. Natirar was later leased by famed English billionaire Sir Richard Branson in a public-private partnership. Today, in addition to the award-winning Ninety Acres, Natirar is home to a cooking school, a sustainable farm, the Mansion Ballroom banquet facility, and a private membership club.
On July 11, Pendry Hotels announced the next phase in the redevelopment of Natirar. The estate will be restored and expanded to add an adjoining signature hotel with 66 guest rooms and suites. Pendry Natirar is scheduled to open in the Spring of 2020 and will feature a full-service spa, fitness center, swimming pool, tennis courts and outdoor activities, including trail paths groomed for hiking, biking and horseback riding.
In addition to the hotel, Robert Wojtowicz is also expanding the property to include a luxury residential development. Pendry Residences Natirar will offer 24 private, whole-ownership Estate and Farm Villas created for luxury, country-style living. The Villa residences owners will have access to all hotel amenities and services as well as the private club and the 12 acre farm that already exists on the property. There will also be special programs for homeowners including a customized farm experience allowing them to curate their own Natirar garden experience in their backyard and wellness programs.
Designed by renowned architect, Bob Hillier, the residences will be priced from $1.4 million to more than $3 million, depending on the size and interior finishes that are selected. Set within a private gated enclave named Abby Road within the 90-acre resort property, the Villas will offer semi-custom homes and will feature expansive views and options to personalize selections and home configurations. The residences are designed to deliver hassle-free living with privacy and up to 4,000 square feet of living space.
Once completed, the Pendry set up will be a picture perfect private Agrihood nestled between rolling hills, a working farm and a piece of history sure to become the optimal connection to outdoor living and wellness management. Modern design space and an abundant amount of residential amenities will undoubtedly create the ultimate indoor-outdoor experience.