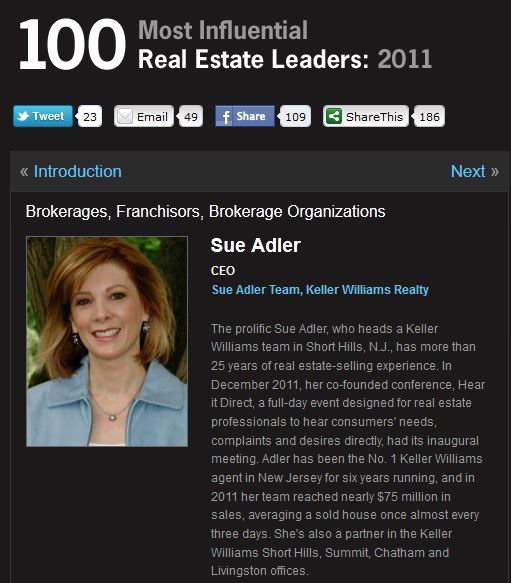 Sue Adler Named to Inman's 100 Most Influential Real Estate Professionals 2011
I'm seriously honored that Inman News, the real estate industry's most authoritative source of market conditions, trends, technology & financial news, named me as one of the  100 Most Influential Real Estate Leaders in Real Estate for 2011!

How cute is it that my mom thought that since I'm the first person on this (alphabetical list) that I was THE most influential. I mean, did you see who's on this list? Gary Keller, Ben Bernanke – Chairman of Federal Reserve, The CEO's of the largest MLS's in the country, the CEO's of Chase and Bank of America, and the President of the National Association of Realtors, Zillow & Trulia CEO's. Gotta love mom.
So what am I doing on this list?   Our team did have the best year ever, selling a house every 3 days or so, but there are other top teams across the country who had great years too. I think it had something to do with bringing the consumer's voice into the industry, when that seems to have been missing. Earlier in the year, my website www.sueadler.com was custom designed and created by www.virtualresults.net  with that very objective – How can we create a great consumer experience and give buyers what they are looking for all in one place?  Not sure which town?  Millburn/Short Hills, Summit, Maplewood, South Orange, Chatham, Madison, Livingston, New Providence and Westfield – some are similar, some are different, but our community videos were filmed to help the buyer get a flavor of what it is like to live here.
Another reason they could have named me to this prestigious list is because this past month, Rob Hahn and I founded Hear it Direct (www.hearitdirect.com) ,   and held a real estate conference where the consumers, not the realtors, took the stage to voice their opinions.  It was a huge success and everyone who attended realized how valuable something like this is to our industry. I personally learned so much that I'm implementing into my own business.  Don't get me wrong – I often ask my clients for feedback on the process and on my website, but it's never an hour and a half of Q & A.     It was eye opening for both the industry professionals AND the consumers, and it would be great if  Hear it Direct would come to  NJ some time this year, wouldn't it?
My heartfelt thanks to www.Inman.com for this amazing recognition.  I give my word to my clients that The Sue Adler Team will continue to provide old school service while  pioneering new approaches that bring added value to your home buying and selling experience.