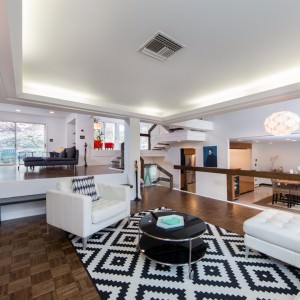 For those seeking sleek lines, bright open spaces and an exceptional Manhattan view, look no further than 77 Collinwood Road. This home, located in Maplewood, just 20 miles west of Manhattan and expertly built into the topography, hits all the right notes for anyone seeking extraordinary modern design in a natural setting.
Looking for serenity and peace? Get ready to grab a cocktail and put your feet up in this quintessential modern home with its clean lines and calming angles. Generous open spaces and lavish use of windows make this home virtually dissolve into the lush South Mountain reservation. The home's oversized windows and double height ceilings allow natural light to glow deep into the heart of the home. Simply put, the indoors and outdoors seamlessly connect to create the perfect tranquil environment. No need for artwork, just simply look outside at the views of New York City, the South Mountain Reservation or your private koi pond.
Love to entertain? 77 Collinwood Road's airy, open floor plan, combining different levels in a unified open space, creates the perfect environment for your next party. The sleek, well-executed entertaining space is both simple and understated. This modern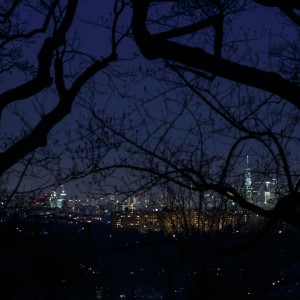 home leaves behind walls and hallways so your guests can enjoy a glass of wine and flow freely and easily through the relaxed and connecting interior spaces. All of this lends to a more casual and relaxed vibe for your next party.
Maplewood, Maplewood, Maplewood! And if you are still not convinced of all 77 Collinwood Road has to offer, consider its location 20 miles west of Manhattan in hip, cultured Maplewood. With a direct train to New York City, a tight-knit community of neighbors, a bustling downtown area full of shops and restaurants and a local arts scene, this vibrant town delivers a sophisticated feel with all the benefits of suburban quietude.
77 Collinwood Road is sleek and simple modern form at its finest. The open layout, functional space and naturalistic setting make this house a rare opportunity for those seeking all a modern home has to offer in one of Essex's County's hottest locations. Interested in a private appointment to view 77 Collinwood Road, call Sue Adler: 973-936-9129.